S&P 500, VVIX, Bitcoin, VKI, doleris, EURUSD ir USDJPY pokalbių taškai:
Rinkos perspektyva

: USDJPY Bearish Žemiau 146; EURUSD Bullish virš 1.0000; Auksas Bearish Žemiau 1680

Kadangi JAV laikotarpio vidurkis praeina be galutinio rezultato rinkoms ir ekonomikai, dėmesys dabar perkeliamas į aukšto lygio VKI paskelbimą.

Bėdos kriptovaliutų rinkoje dar kartą paaštrėjo po to, kai Binance pasitraukė iš FXT gelbėjimo – ar iš šios finansų sistemos srities gali išaugti platesnė spekuliacinė baimė?
Rekomenduoja Johnas Kicklighteris
Pasitikėjimo prekyba prekyba
"S&P 500" sumažina riziką, nes galioja vidutinis terminas, saugokitės kriptovaliutų rinkų atsiliepimų
Šios savaitės pradžioje mažai palengvėjo nuo rinkos blaškymosi. Kai įvykę JAV vidurio kadencijos rinkimai panaikino vieną ateities etapą, stabdantį spekuliacinius interesus, ketvirtadienį paskelbtas vartotojų kainų indekso (VKI) "dvejetainis" potencialas iš esmės perėmė estafetę, kad būtų galima suvaldyti spekuliacinius įsitikinimus. Tačiau ir šis įvykis greitai praeis. Vertinant nuotaikų bangą, vedančią į aukščiausią JAV ekonominių dokumentų sąrašą ketvirtadienį, buvo pastebėta tam tikra, bet tik atsirandanti, trauka nuo S&P 500 iki trečiadienio sesijos. -2,1 procento kritimas buvo pirmasis JAV indekso kritimas per keturias prekybos sesijas. Tai taip pat atneštų priešpriešinį vėją – VVIX "kintamumo nepastovumo" indekso kilimas. Tolesnė erozija tęsėsi kažkada spekuliuojančio favorito santykiu Nasdaq 100 (gyvena didžiausių rinkos kapitalizacijos FAANG narių), palyginti su stoika Dow Jones Industrial Average. NDX ir DJIA santykis iki trečiadienio pabaigos nukrito iki žemiausios per dvejus su puse metų.
S&P 500 diagrama su apimtimi, padengta VVIX indeksu ir 1 dienos ROC (kasdien)
Diagrama sukurta "Tradingview" platforma
Nors pastarosiomis savaitėmis ir mėnesiais dominuojantis pagrindinis dėmesys "rizikos turtui" pagrįstai buvo sutelktas į pinigų politikos poveikio pasekmes, taip pat į recesijos tikimybę, tačiau svarbu atidžiai stebėti netikėtas kibirkštis, gali įžiebti nenumatytus finansinius gaisrus. Kaip tik tokia embrioninė grėsmė, atrodo, burbuliuoja per kriptovaliutų rinką. Šios savaitės pradžioje pasirodžiusi žinia, kad kriptovaliutų biržai FTX sunkiai sekasi dėl didelio klientų pasitraukimo, atrodė, kad buvo pasiekta pusiausvyra, kai buvo pranešta, kad "Binance" imasi iš esmės gelbėti sunkumų patiriančią įmonę. Tačiau šis patikinimas žlugo praėjusioje sesijoje, kai "Binance" atsiėmė savo įsigijimo pasiūlymą. Pasekmės nėra geros. Šis nepalankus posūkis kelia klausimą: kiek sistemiškai svarbus FTX kriptovaliutai. Tai didelis žaidėjas, tačiau reali grėsmė yra užkrėtimo erdvėje galimybė. Jei testavimas nepalankiausiomis sąlygomis, taikomas kitiems svarbiems turto klasės žaidėjams, padidins kritinį spaudimą, techninė vieta turės mažai reikšmės. Kalbant apie tai, ką tai reiškia platesnei finansų sistemai, faktas, kad tai vyksta kriptovaliutų erdvėje, neturi reikšmės, jei tai sukelia bendrą spekuliacinio apetito paniką. Aš nesitikiu pilkųjų gulbių, bet būtų kvaila nekreipti dėmesio į protrūkius, kurie, atrodo, gali lengvai išaugti.
Diagrama BTCUSD su 1 dienos pokyčių tempu (kasdien)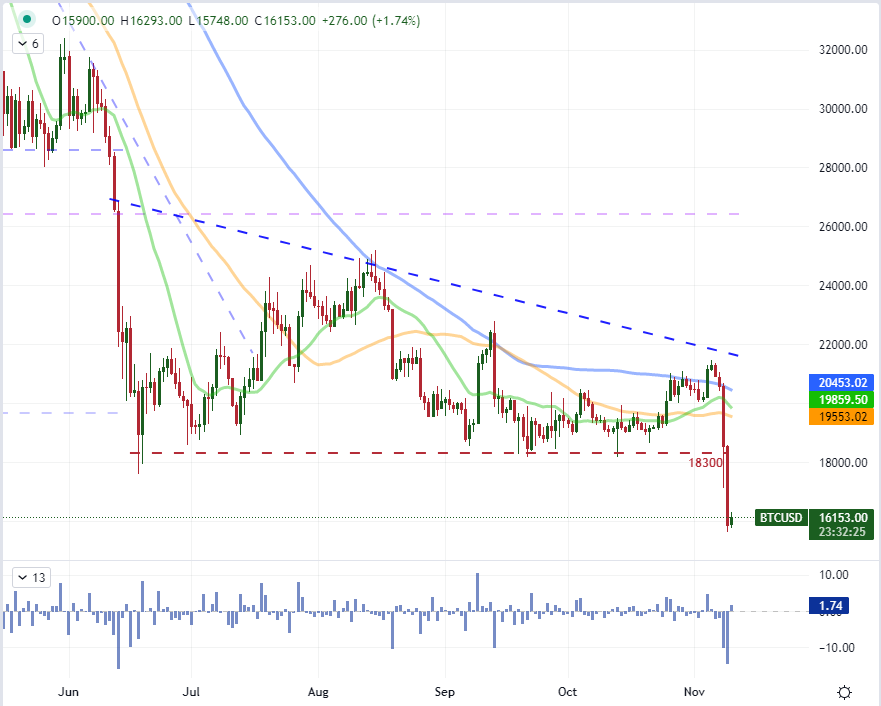 Diagrama sukurta "Tradingview" platforma
JAV VKI ir dolerio poveikis kurso poveikiui
Pasibaigus trečiadienio sesijai, mes dar labiau skyrėme tarpą tarp rinkos spekuliacinio dėmesio ir JAV vidurio kadencijos rinkimų. Tai nereiškia, kad JAV politinis kraštovaizdis yra aiškus – iš tikrųjų, atrodo, kad Kongreso perspektyvos priklausys nuo kai kurių pagrindinių perskaičiavimų ir galimų antrųjų rinkimų. Tačiau, atsižvelgiant į bendrą spekuliacinę įtaką, manau, kad trumpalaikis šio įvykio potencialas atsirado ir išnyko (ilgalaikė įtaka greičiausiai pasireikš kurį laiką, bet labiau ledynų tempu). Vis dėlto, sušvelnėjus rinkimų blaškymuisi, matome, kad spekuliacinio rango dėmesys perkeliamas į dar vieną artimiausioje ateityje suplanuotą įvykį: JAV spalio mėnesio VKI. Ekonomistų prognozės reikalauja labai nuosaikiai sumažinti infliacijos klipą. Ši indikatorių serija turi didelį svorį, atsižvelgiant į FOMC Praėjusią savaitę jos planai pratęsti savo vanagiško režimo terminą ir didžiausią palūkanų normą buvo dviprasmiški po praėjusią savaitę 75 bazinių punktų palūkanų padidinimo. Dėl šios įtakos įvykis gali tapti reikšmingu rinkos veiksniu, nesvarbu, ar faktinis skaitymas viršija lūkesčius, ar jų nepatenka.
Kritinė makro įvykių rizika kitos savaitės pasaulio ekonomikos kalendoriuje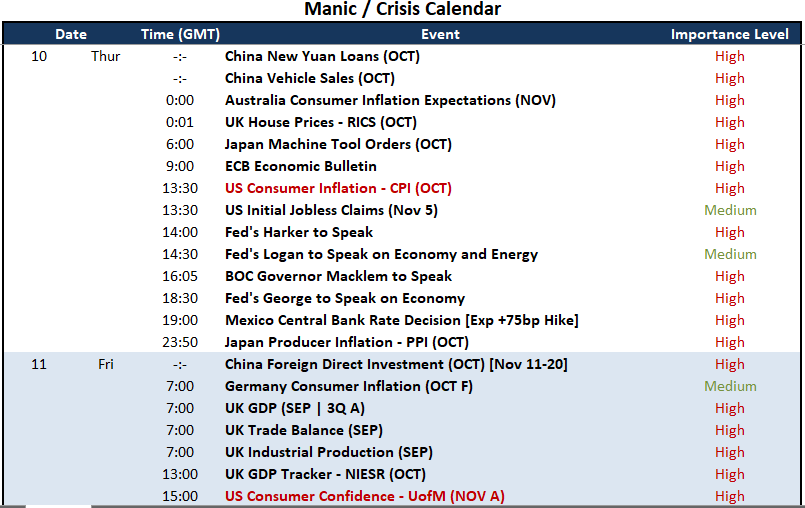 Kalendorių sukūrė Johnas Kicklighteris
Kalbant apie rinkos reakciją į infliacijos ataskaitą, tikėtina, kad poveikis bus plačiai taikomas visoje finansų sistemoje; bet doleris tikriausiai yra mano pagrindinis dėmesys. Žemiau yra DXY Dolerio indekso diagrama, kurią paryškino kiekvienas iš pastarųjų 8 mėnesių VKI leidimų. Rinkos kryptis po infliacijos atnaujinimo labai priklauso nuo duomenų netikėtumo krypties ir intensyvumo. Be to, rinkos reakcija į atnaujinimus buvo linkusi į reikšmingumą. Atsižvelgiant į ilgalaikę reikšmingų palūkanų normų kėlimo seriją ir Federalinio rezervo perspėjimus, kad jis daugiausia veiks kainų spaudimui kontroliuoti, reikšmingo nepastovumo dėl šio įvykio tikimybė išlieka labai didelė.
Rekomenduoja Johnas Kicklighteris
Gaukite nemokamą USD prognozę
JAV dolerio diagrama su VKI išleidimo datomis, 100 dienų SMA ir 1 dienos ROC (kasdien)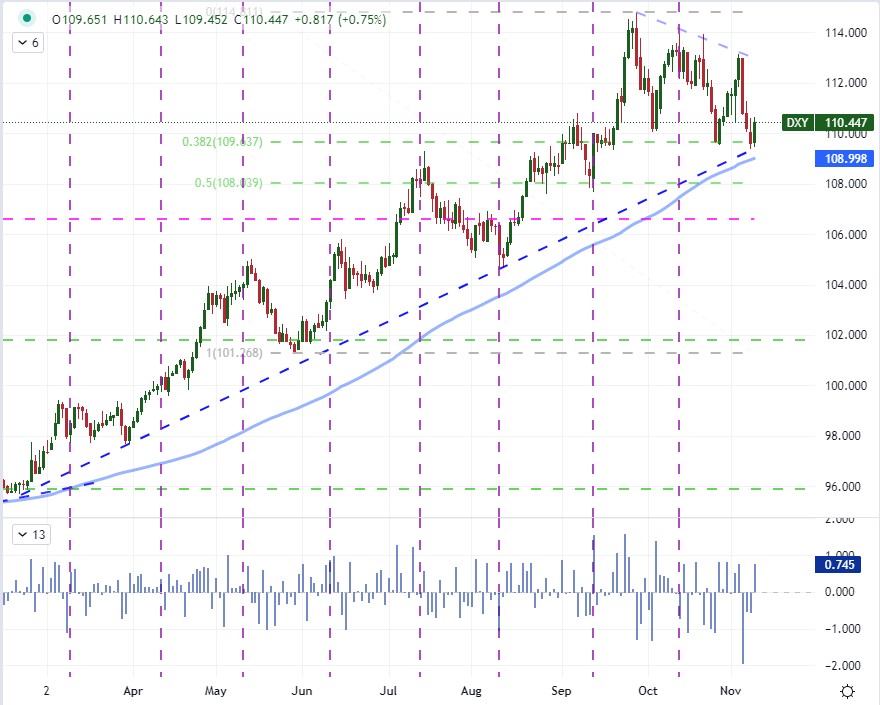 Diagrama sukurta "Tradingview" platforma
EURUSD ir USDJPY: skirtingas potencialas, jei infliacija sukels rinkos reakciją
Kai reikia įvertinti, ar infliacijos statistika viršys lūkesčius, pateisins ar nepateisins; Nemanau, kad turiu prasmingos įžvalgos, kaip bus spausdinami duomenys. Todėl mano požiūris yra išnagrinėti skirtingų rezultatų galimybes. Tuo atveju, jei VKI rodmuo pateisintų lūkesčius, antraštės (8,0 proc.) ir pagrindinio (6,4 proc.) tempas vis tiek būtų labai didelis ir greičiausiai būtų numatytasis esminis vanagiško rodmens įvertinimas. Tai būtų neigiamas "rizikos" katalizatorius ir doleris. Įvertinti S&P 500 arba Dow meškų kursą yra gana paprasta, tačiau stipraus Greenback naudos gavėjo vertinimas yra kitas dalykas, nes valiuta nėra toli nuo praėjusį mėnesį nustatytų kelių dešimtmečių aukštumų. Vienas kandidatas, kuris atrodo gerai pozicijoje, yra EURUSD, bet ne dėl jo bendros lokių tendencijos atgaivinimo. Atrodytų, kad svyravimas per pastarąsias 8 savaites būtų įmanomas.
Rekomenduoja Johnas Kicklighteris
Kaip prekiauti EUR/USD
EURUSD diagrama (kasdien)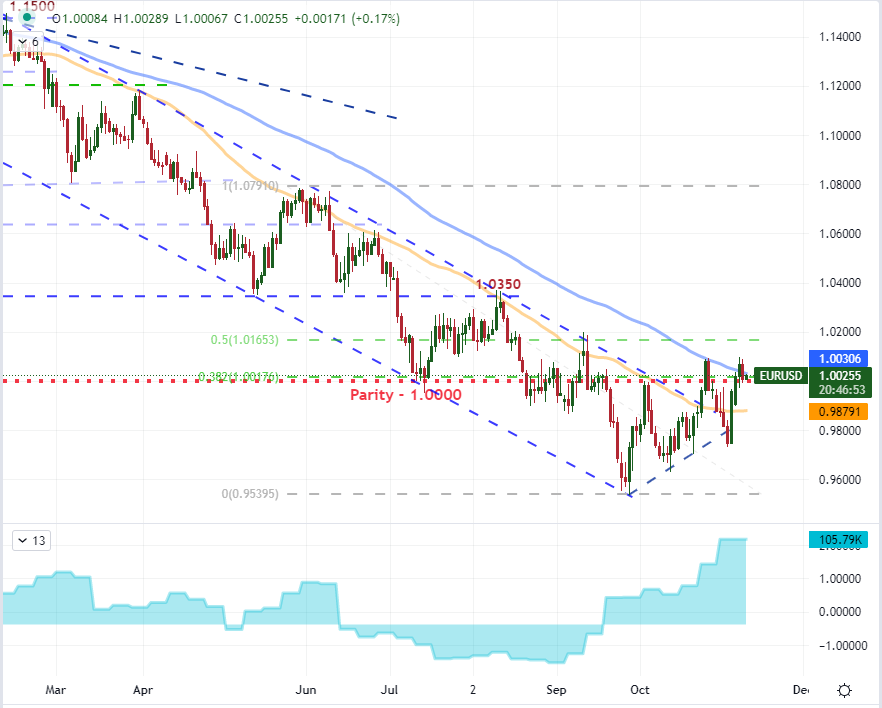 Diagrama sukurta "Tradingview" platforma
Norint tikrai nuvilti JAV infliacijos ataskaitą, VKI sulėtėjimas greičiausiai turėtų būti reikšmingas. Kažkas maždaug 7,0 procentų antraštės klipo tikrai galėtų pasiekti šį pavadinimą, nors tai yra ekstremalesnis scenarijus. Toks infliacijos spaudimo sumažinimas galėtų suteikti FED galimybių sušvelninti kovą su infliacija ir nukreipti dėmesį į ekonominių sąlygų slopinimą. Tačiau JAV dolerio pasekmės gali būti šiek tiek greitesnės ir dramatiškesnės. Tarp kryžių, kurie būtų labiau veikiami dramatiškos ir intensyvios reakcijos į dolerio atsitraukimą, manau, kad USDJPY yra labiausiai linkęs veikti. Šiai porai būdingas jautrumas rizikai, tačiau pagrindinis makroelementų jautrumas yra dolerio likimo atspindys. Todėl rimtas Greenback suskirstymas čia būtų ypač apmokestintas.
Rekomenduoja Johnas Kicklighteris
Kaip prekiauti USD/JPY
USDJPY diagrama su 50 ir 100 dienų SMA su 20 dienų ATR ir istoriniu diapazonu (kasdien)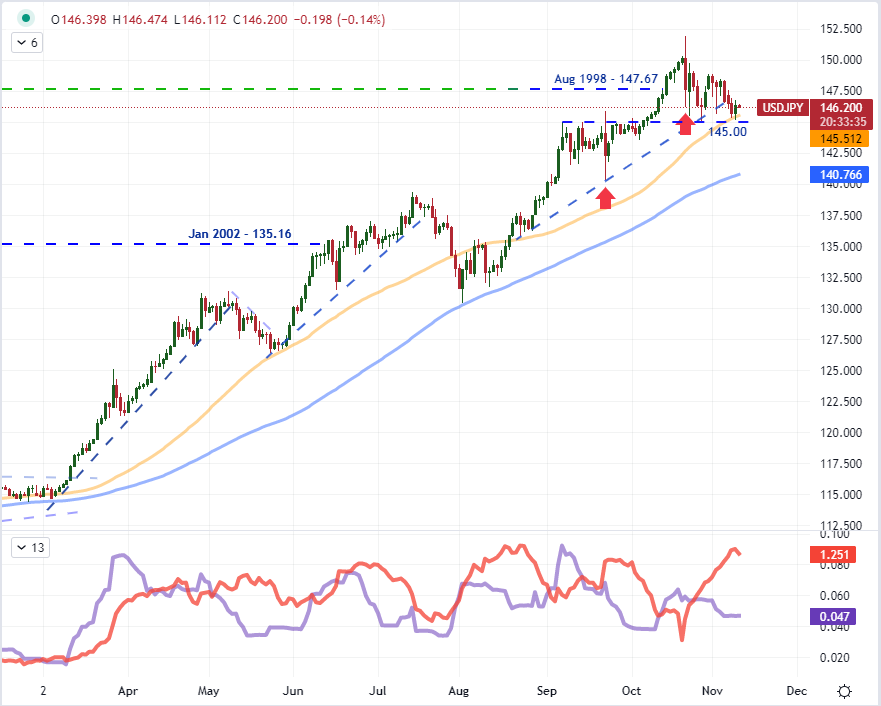 Diagrama sukurta "Tradingview" platforma
Prekiaukite protingiau – prisiregistruokite gauti "DailyFX" naujienlaiškį
Gaukite laiku ir įtikinamus rinkos komentarus iš DailyFX komandos
Prenumeruoti naujienas
!function(){function errMsg(errCode,msg){return(msg||"")+" (SystemJS Error#"+errCode+" https://git.io/JvFET#"+errCode+")"}var baseUrl,baseEl,hasSymbol="undefined"!=typeof Symbol,hasSelf="undefined"!=typeof self,hasDocument="undefined"!=typeof document,envGlobal=hasSelf?self:global,backslashRegEx=(!hasDocument||(baseEl=document.querySelector("base[href]"))&&(baseUrl=baseEl.href),baseUrl||"undefined"==typeof location||-1!==(baseEl=(baseUrl=location.href.split("#")[0].split("?")[0]).lastIndexOf("/"))&&(baseUrl=baseUrl.slice(0,baseEl+1)),/\/g);function resolveIfNotPlainOrUrl(relUrl,parentUrl){if("/"===(relUrl=-1!==relUrl.indexOf("\")?relUrl.replace(backslashRegEx,"/"):relUrl)[0]&&"/"===relUrl[1])return parentUrl.slice(0,parentUrl.indexOf(":")+1)+relUrl;if("."===relUrl[0]&&("/"===relUrl[1]||"."===relUrl[1]&&("/"===relUrl[2]||2===relUrl.length&&(relUrl+="/"))||1===relUrl.length&&(relUrl+="/"))||"/"===relUrl[0]){var parentProtocol=parentUrl.slice(0,parentUrl.indexOf(":")+1),pathname="/"===parentUrl[parentProtocol.length+1]?"file:"!==parentProtocol?(pathname=parentUrl.slice(parentProtocol.length+2)).slice(pathname.indexOf("/")+1):parentUrl.slice(8):parentUrl.slice(parentProtocol.length+("/"===parentUrl[parentProtocol.length]));if("/"===relUrl[0])return parentUrl.slice(0,parentUrl.length-pathname.length-1)+relUrl;for(var segmented=pathname.slice(0,pathname.lastIndexOf("/")+1)+relUrl,output=[],segmentIndex=-1,i=0;ipkgName.length&&"/"!==packages[packages.length-1]?void targetWarning("W2″,pkgName,packages,"should have a trailing '/'"):packages+id.slice(pkgName.length)}}function targetWarning(code,match,target,msg){console.warn(errMsg(code,"Package target "+msg+", resolving target '"+target+"' for "+match))}function resolveImportMap(importMap,resolvedOrPlain,parentUrl){for(var scopes=importMap.scopes,scopeUrl=parentUrl&&getMatch(parentUrl,scopes);scopeUrl;){var packageResolution=applyPackages(resolvedOrPlain,scopes[scopeUrl]);if(packageResolution)return packageResolution;scopeUrl=getMatch(scopeUrl.slice(0,scopeUrl.lastIndexOf("/")),scopes)}return applyPackages(resolvedOrPlain,importMap.imports)||-1!==resolvedOrPlain.indexOf(":")&&resolvedOrPlain}var toStringTag=hasSymbol&&Symbol.toStringTag,REGISTRY=hasSymbol?Symbol():"@";function SystemJS(){this[REGISTRY]={}}var lastRegister,systemJSPrototype=SystemJS.prototype;function loadToId(load){return load.id}function triggerOnload(loader,load,err,isErrSource){if(loader.onload(err,load.id,load.d&&load.d.map(loadToId),!!isErrSource),err)throw err}function getOrCreateLoad(loader,id,firstParentUrl){var importerSetters,ns,instantiatePromise,linkPromise,load=loader[REGISTRY][id];return load||(importerSetters=[],ns=Object.create(null),toStringTag&&Object.defineProperty(ns,toStringTag,{value:"Module"}),linkPromise=(instantiatePromise=Promise.resolve().then(function(){return loader.instantiate(id,firstParentUrl)}).then(function(registration){var declared;if(registration)return declared=registration[1](function _export(name,value){var changed=!(load.h=!0);if("string"==typeof name)name in ns&&ns[name]===value||(ns[name]=value,changed=!0);else{for(var p in name){value=name[p];p in ns&&ns[p]===value||(ns[p]=value,changed=!0)}name&&name.__esModule&&(ns.__esModule=name.__esModule)}if(changed)for(var i=0;i{var fulfilled=value=>{try{step(generator.next(value))}catch(e){reject(e)}},rejected=value=>{try{step(generator.throw(value))}catch(e){reject(e)}},step=x=>x.done?resolve(x.value):Promise.resolve(x.value).then(fulfilled,rejected);step((generator=generator.apply(__this,__arguments)).next())});if(void 0!==window.Reflect&&void 0!==window.customElements&&!window.customElements.polyfillWrapFlushCallback){const BuiltInHTMLElement=HTMLElement,wrapperForTheName_HTMLElement=function HTMLElement2(){return Reflect.construct(BuiltInHTMLElement,[],this.constructor)};window.HTMLElement=wrapperForTheName_HTMLElement,HTMLElement.prototype=BuiltInHTMLElement.prototype,HTMLElement.prototype.constructor=HTMLElement,Object.setPrototypeOf(HTMLElement,BuiltInHTMLElement)}function raise(errorConstructor,message,name){throw new errorConstructor("Failed to execute 'requestSubmit' on 'HTMLFormElement': "+message+".",name)}"function"!=typeof(prototype=HTMLFormElement.prototype).requestSubmit&&(prototype.requestSubmit=function(submitter){submitter?(function validateSubmitter(submitter,form){submitter instanceof HTMLElement||raise(TypeError,"parameter 1 is not of type 'HTMLElement'"),"submit"!=submitter.type&&raise(TypeError,"The specified element is not a submit button"),submitter.form!=form&&raise(DOMException,"The specified element is not owned by this form element","NotFoundError")}(submitter,this),submitter.click()):((submitter=document.createElement("input")).type="submit",submitter.hidden=!0,this.appendChild(submitter),submitter.click(),this.removeChild(submitter))});const submittersByForm=new WeakMap;function clickCaptured(event){event=function findSubmitterFromClickTarget(target){return"submit"==(null==(target=(target=target instanceof Element?target:target instanceof Node?target.parentElement:null)?target.closest("input, button"):null)?void 0:target.type)?target:null}(event.target);event&&event.form&&submittersByForm.set(event.form,event)}!function(){if(!("submitter"in Event.prototype)){let prototype;if("SubmitEvent"in window&&/Apple Computer/.test(navigator.vendor))prototype=window.SubmitEvent.prototype;else{if("SubmitEvent"in window)return;prototype=window.Event.prototype}addEventListener("click",clickCaptured,!0),Object.defineProperty(prototype,"submitter",{get(){if("submit"==this.type&&this.target instanceof HTMLFormElement)return submittersByForm.get(this.target)}})}}(),(prototype=FrameLoadingStyle=FrameLoadingStyle||{}).eager="eager",prototype.lazy="lazy";class FrameElement extends HTMLElement{constructor(){super(),this.loaded=Promise.resolve(),this.delegate=new FrameElement.delegateConstructor(this)}static get observedAttributes(){return["disabled","loading","src"]}connectedCallback(){this.delegate.connect()}disconnectedCallback(){this.delegate.disconnect()}reload(){var src=this["src"];this.src=null,this.src=src}attributeChangedCallback(name){"loading"==name?this.delegate.loadingStyleChanged():"src"==name?this.delegate.sourceURLChanged():this.delegate.disabledChanged()}get src(){return this.getAttribute("src")}set src(value){value?this.setAttribute("src",value):this.removeAttribute("src")}get loading(){return function frameLoadingStyleFromString(style){{if("lazy"!==style.toLowerCase())return FrameLoadingStyle.eager;return FrameLoadingStyle.lazy}}(this.getAttribute("loading")||"")}set loading(value){value?this.setAttribute("loading",value):this.removeAttribute("loading")}get disabled(){return this.hasAttribute("disabled")}set disabled(value){value?this.setAttribute("disabled",""):this.removeAttribute("disabled")}get autoscroll(){return this.hasAttribute("autoscroll")}set autoscroll(value){value?this.setAttribute("autoscroll",""):this.removeAttribute("autoscroll")}get complete(){return!this.delegate.isLoading}get isActive(){return this.ownerDocument===document&&!this.isPreview}get isPreview(){var _a;return null==(_a=null==(_a=this.ownerDocument)?void 0:_a.documentElement)?void 0:_a.hasAttribute("data-turbo-preview")}}function expandURL(locatable){return new URL(locatable.toString(),document.baseURI)}function getAnchor(url){return url.hash?url.hash.slice(1):(url=url.href.match(/#(.*)$/))?url[1]:void 0}function getAction(form,submitter){return expandURL((null==submitter?void 0:submitter.getAttribute("formaction"))||form.getAttribute("action")||form.action)}function getExtension(url){return(function getLastPathComponent(url){return function getPathComponents(url){return url.pathname.split("/").slice(1)}(url).slice(-1)[0]}(url).match(/.[^.]*$/)||[])[0]||""}function isPrefixedBy(baseURL,url){url=function getPrefix(url){return function addTrailingSlash(value){return value.endsWith("/")?value:value+"/"}(url.origin+url.pathname)}(url);return baseURL.href===expandURL(url).href||baseURL.href.startsWith(url)}function locationIsVisitable(location2,rootLocation){return isPrefixedBy(location2,rootLocation)&&function isHTML(url){return!!getExtension(url).match(/^(?:|.(?:htm|html|xhtml))$/)}(location2)}function getRequestURL(url){var anchor=getAnchor(url);return null!=anchor?url.href.slice(0,-(anchor.length+1)):url.href}function toCacheKey(url){return getRequestURL(url)}class FetchResponse{constructor(response){this.response=response}get succeeded(){return this.response.ok}get failed(){return!this.succeeded}get clientError(){return 400<=this.statusCode&&this.statusCode<=499}get serverError(){return 500<=this.statusCode&&this.statusCoderequestAnimationFrame(()=>resolve()))}function parseHTMLDocument(html=""){return(new DOMParser).parseFromString(html,"text/html")}function unindent(strings,…values){strings=function interpolate(strings,values){return strings.reduce((result,string,i)=>{return result+string+(null==values[i]?"":values[i])},"")}(strings,values).replace(/^n/,"").split("n"),values=strings[0].match(/^s+/);const indent=values?values[0].length:0;return strings.map(line=>line.slice(indent)).join("n")}function uuid(){return Array.apply(null,{length:36}).map((_,i)=>8==i||13==i||18==i||23==i?"-":14==i?"4":(19==i?Math.floor(4*Math.random())+8:Math.floor(15*Math.random())).toString(16)).join("")}function getAttribute(attributeName,…elements){for(const value of elements.map(element=>null==element?void 0:element.getAttribute(attributeName)))if("string"==typeof value)return value;return null}function markAsBusy(…elements){for(const element of elements)"turbo-frame"==element.localName&&element.setAttribute("busy",""),element.setAttribute("aria-busy","true")}function clearBusyState(…elements){for(const element of elements)"turbo-frame"==element.localName&&element.removeAttribute("busy"),element.removeAttribute("aria-busy")}(prototype=FetchMethod=FetchMethod||{})[prototype.get=0]="get",prototype[prototype.post=1]="post",prototype[prototype.put=2]="put",prototype[prototype.patch=3]="patch",prototype[prototype.delete=4]="delete";class FetchRequest{constructor(delegate,method,location2,body=new URLSearchParams,target=null){this.abortController=new AbortController,this.resolveRequestPromise=value=>{},this.delegate=delegate,this.method=method,this.headers=this.defaultHeaders,this.body=body,this.url=location2,this.target=target}get location(){return this.url}get params(){return this.url.searchParams}get entries(){return this.body?Array.from(this.body.entries()):[]}cancel(){this.abortController.abort()}perform(){return __async$3(this,null,function*(){var _a,_b,fetchOptions=this["fetchOptions"];null!=(_b=(_a=this.delegate).prepareHeadersForRequest)&&_b.call(_a,this.headers,this),yield this.allowRequestToBeIntercepted(fetchOptions);try{this.delegate.requestStarted(this);var response=yield fetch(this.url.href,fetchOptions);return yield this.receive(response)}catch(error){if("AbortError"!==error.name)throw this.delegate.requestErrored(this,error),error}finally{this.delegate.requestFinished(this)}})}receive(response){return __async$3(this,null,function*(){var fetchResponse=new FetchResponse(response);return dispatch("turbo:before-fetch-response",{cancelable:!0,detail:{fetchResponse:fetchResponse},target:this.target}).defaultPrevented?this.delegate.requestPreventedHandlingResponse(this,fetchResponse):fetchResponse.succeeded?this.delegate.requestSucceededWithResponse(this,fetchResponse):this.delegate.requestFailedWithResponse(this,fetchResponse),fetchResponse})}get fetchOptions(){var _a;return{method:FetchMethod[this.method].toUpperCase(),credentials:"same-origin",headers:this.headers,redirect:"follow",body:this.isIdempotent?null:this.body,signal:this.abortSignal,referrer:null==(_a=this.delegate.referrer)?void 0:_a.href}}get defaultHeaders(){return{Accept:"text/html, application/xhtml+xml"}}get isIdempotent(){return this.method==FetchMethod.get}get abortSignal(){return this.abortController.signal}allowRequestToBeIntercepted(fetchOptions){return __async$3(this,null,function*(){var requestInterception=new Promise(resolve=>this.resolveRequestPromise=resolve);dispatch("turbo:before-fetch-request",{cancelable:!0,detail:{fetchOptions:fetchOptions,url:this.url,resume:this.resolveRequestPromise},target:this.target}).defaultPrevented&&(yield requestInterception)})}}class AppearanceObserver{constructor(delegate,element){this.started=!1,this.intersect=entries=>{entries=entries.slice(-1)[0];null!=entries&&entries.isIntersecting&&this.delegate.elementAppearedInViewport(this.element)},this.delegate=delegate,this.element=element,this.intersectionObserver=new IntersectionObserver(this.intersect)}start(){this.started||(this.started=!0,this.intersectionObserver.observe(this.element))}stop(){this.started&&(this.started=!1,this.intersectionObserver.unobserve(this.element))}}class StreamMessage{constructor(html){this.templateElement=document.createElement("template"),this.templateElement.innerHTML=html}static wrap(message){return"string"==typeof message?new this(message):message}get fragment(){var fragment=document.createDocumentFragment();for(const element of this.foreignElements)fragment.appendChild(document.importNode(element,!0));return fragment}get foreignElements(){return this.templateChildren.reduce((streamElements,child)=>"turbo-stream"==child.tagName.toLowerCase()?[…streamElements,child]:streamElements,[])}get templateChildren(){return Array.from(this.templateElement.content.children)}}StreamMessage.contentType="text/vnd.turbo-stream.html",(prototype=FormSubmissionState=FormSubmissionState||{})[prototype.initialized=0]="initialized",prototype[prototype.requesting=1]="requesting",prototype[prototype.waiting=2]="waiting",prototype[prototype.receiving=3]="receiving",prototype[prototype.stopping=4]="stopping",prototype[prototype.stopped=5]="stopped",(prototype=FormEnctype=FormEnctype||{}).urlEncoded="application/x-www-form-urlencoded",prototype.multipart="multipart/form-data",prototype.plain="text/plain";class FormSubmission{constructor(delegate,formElement,submitter,mustRedirect=!1){this.state=FormSubmissionState.initialized,this.delegate=delegate,this.formElement=formElement,this.submitter=submitter,this.formData=function buildFormData(formElement,submitter){var formElement=new FormData(formElement),name=null==submitter?void 0:submitter.getAttribute("name"),submitter=null==submitter?void 0:submitter.getAttribute("value");name&&null!=submitter&&formElement.get(name)!=submitter&&formElement.append(name,submitter);return formElement}(formElement,submitter),this.location=expandURL(this.action),this.method==FetchMethod.get&&function mergeFormDataEntries(url,entries){var searchParams=new URLSearchParams;for(var[name,value]of entries)value instanceof File||searchParams.append(name,value);url.search=searchParams.toString()}(this.location,[…this.body.entries()]),this.fetchRequest=new FetchRequest(this,this.method,this.location,this.body,this.formElement),this.mustRedirect=mustRedirect}static confirmMethod(message,element){return confirm(message)}get method(){var _a;return function fetchMethodFromString(method){switch(method.toLowerCase()){case"get":return FetchMethod.get;case"post":return FetchMethod.post;case"put":return FetchMethod.put;case"patch":return FetchMethod.patch;case"delete":return FetchMethod.delete}}(((null==(_a=this.submitter)?void 0:_a.getAttribute("formmethod"))||this.formElement.getAttribute("method")||"").toLowerCase())||FetchMethod.get}get action(){var _a,formElementAction="string"==typeof this.formElement.action?this.formElement.action:null;return(null==(_a=this.submitter)?void 0:_a.getAttribute("formaction"))||this.formElement.getAttribute("action")||formElementAction||""}get body(){return this.enctype==FormEnctype.urlEncoded||this.method==FetchMethod.get?new URLSearchParams(this.stringFormData):this.formData}get enctype(){var _a;return function formEnctypeFromString(encoding){switch(encoding.toLowerCase()){case FormEnctype.multipart:return FormEnctype.multipart;case FormEnctype.plain:return FormEnctype.plain;default:return FormEnctype.urlEncoded}}((null==(_a=this.submitter)?void 0:_a.getAttribute("formenctype"))||this.formElement.enctype)}get isIdempotent(){return this.fetchRequest.isIdempotent}get stringFormData(){return[…this.formData].reduce((entries,[name,value])=>entries.concat("string"==typeof value?[[name,value]]:[]),[])}get confirmationMessage(){return this.formElement.getAttribute("data-turbo-confirm")}get needsConfirmation(){return null!==this.confirmationMessage}start(){return __async$3(this,null,function*(){var{initialized,requesting}=FormSubmissionState;if(this.needsConfirmation&&!FormSubmission.confirmMethod(this.confirmationMessage,this.formElement))return;if(this.state==initialized)return this.state=requesting,this.fetchRequest.perform()})}stop(){var{stopping,stopped}=FormSubmissionState;if(this.state!=stopping&&this.state!=stopped)return this.state=stopping,this.fetchRequest.cancel(),!0}prepareHeadersForRequest(headers,request){request.isIdempotent||((request=function getCookieValue(cookieName){{var cookie;return null!=cookieName&&(cookie=(document.cookie?document.cookie.split("; "):[]).find(cookie2=>cookie2.startsWith(cookieName)))&&(cookie=cookie.split("=").slice(1).join("="))?decodeURIComponent(cookie):void 0}}(getMetaContent("csrf-param"))||getMetaContent("csrf-token"))&&(headers["X-CSRF-Token"]=request),headers.Accept=[StreamMessage.contentType,headers.Accept].join(", "))}requestStarted(request){var _a;this.state=FormSubmissionState.waiting,null!=(_a=this.submitter)&&_a.setAttribute("disabled",""),dispatch("turbo:submit-start",{target:this.formElement,detail:{formSubmission:this}}),this.delegate.formSubmissionStarted(this)}requestPreventedHandlingResponse(request,response){this.result={success:response.succeeded,fetchResponse:response}}requestSucceededWithResponse(request,response){response.clientError||response.serverError?this.delegate.formSubmissionFailedWithResponse(this,response):this.requestMustRedirect(request)&&function responseSucceededWithoutRedirect(response){return 200==response.statusCode&&!response.redirected}(response)?(request=new Error("Form responses must redirect to another location"),this.delegate.formSubmissionErrored(this,request)):(this.state=FormSubmissionState.receiving,this.result={success:!0,fetchResponse:response},this.delegate.formSubmissionSucceededWithResponse(this,response))}requestFailedWithResponse(request,response){this.result={success:!1,fetchResponse:response},this.delegate.formSubmissionFailedWithResponse(this,response)}requestErrored(request,error){this.result={success:!1,error:error},this.delegate.formSubmissionErrored(this,error)}requestFinished(request){var _a;this.state=FormSubmissionState.stopped,null!=(_a=this.submitter)&&_a.removeAttribute("disabled"),dispatch("turbo:submit-end",{target:this.formElement,detail:Object.assign({formSubmission:this},this.result)}),this.delegate.formSubmissionFinished(this)}requestMustRedirect(request){return!request.isIdempotent&&this.mustRedirect}}function getMetaContent(name){name=document.querySelector(`meta[name="${name}"]`);return name&&name.content}class Snapshot{constructor(element){this.element=element}get children(){return[…this.element.children]}hasAnchor(anchor){return null!=this.getElementForAnchor(anchor)}getElementForAnchor(anchor){return anchor?this.element.querySelector(`[id='${anchor}'], a[name="${anchor}"]`):null}get isConnected(){return this.element.isConnected}get firstAutofocusableElement(){return this.element.querySelector("[autofocus]")}get permanentElements(){return[…this.element.querySelectorAll("[id][data-turbo-permanent]")]}getPermanentElementById(id){return this.element.querySelector(`#${id}[data-turbo-permanent]`)}getPermanentElementMapForSnapshot(snapshot){var permanentElementMap={};for(const currentPermanentElement of this.permanentElements){var id=currentPermanentElement["id"],newPermanentElement=snapshot.getPermanentElementById(id);newPermanentElement&&(permanentElementMap[id]=[currentPermanentElement,newPermanentElement])}return permanentElementMap}}class FormInterceptor{constructor(delegate,element){this.submitBubbled=event=>{var submitter,form=event.target;!event.defaultPrevented&&form instanceof HTMLFormElement&&form.closest("turbo-frame, html")==this.element&&("dialog"!=((null==(submitter=event.submitter||void 0)?void 0:submitter.getAttribute("formmethod"))||form.method)&&this.delegate.shouldInterceptFormSubmission(form,submitter)&&(event.preventDefault(),event.stopImmediatePropagation(),this.delegate.formSubmissionIntercepted(form,submitter)))},this.delegate=delegate,this.element=element}start(){this.element.addEventListener("submit",this.submitBubbled)}stop(){this.element.removeEventListener("submit",this.submitBubbled)}}class View{constructor(delegate,element){this.resolveRenderPromise=value=>{},this.resolveInterceptionPromise=value=>{},this.delegate=delegate,this.element=element}scrollToAnchor(anchor){anchor=this.snapshot.getElementForAnchor(anchor);anchor?(this.scrollToElement(anchor),this.focusElement(anchor)):this.scrollToPosition({x:0,y:0})}scrollToAnchorFromLocation(location2){this.scrollToAnchor(getAnchor(location2))}scrollToElement(element){element.scrollIntoView()}focusElement(element){element instanceof HTMLElement&&(element.hasAttribute("tabindex")?element.focus():(element.setAttribute("tabindex","-1″),element.focus(),element.removeAttribute("tabindex")))}scrollToPosition({x,y}){this.scrollRoot.scrollTo(x,y)}scrollToTop(){this.scrollToPosition({x:0,y:0})}get scrollRoot(){return window}render(renderer){return __async$3(this,null,function*(){var{isPreview,shouldRender,newSnapshot:snapshot}=renderer;if(shouldRender)try{this.renderPromise=new Promise(resolve=>this.resolveRenderPromise=resolve),this.renderer=renderer,this.prepareToRenderSnapshot(renderer);var renderInterception=new Promise(resolve=>this.resolveInterceptionPromise=resolve);this.delegate.allowsImmediateRender(snapshot,this.resolveInterceptionPromise)||(yield renderInterception),yield this.renderSnapshot(renderer),this.delegate.viewRenderedSnapshot(snapshot,isPreview),this.finishRenderingSnapshot(renderer)}finally{delete this.renderer,this.resolveRenderPromise(void 0),delete this.renderPromise}else this.invalidate()})}invalidate(){this.delegate.viewInvalidated()}prepareToRenderSnapshot(renderer){this.markAsPreview(renderer.isPreview),renderer.prepareToRender()}markAsPreview(isPreview){isPreview?this.element.setAttribute("data-turbo-preview",""):this.element.removeAttribute("data-turbo-preview")}renderSnapshot(renderer){return __async$3(this,null,function*(){yield renderer.render()})}finishRenderingSnapshot(renderer){renderer.finishRendering()}}class FrameView extends View{invalidate(){this.element.innerHTML=""}get snapshot(){return new Snapshot(this.element)}}class LinkInterceptor{constructor(delegate,element){this.clickBubbled=event=>{this.respondsToEventTarget(event.target)?this.clickEvent=event:delete this.clickEvent},this.linkClicked=event=>{this.clickEvent&&this.respondsToEventTarget(event.target)&&event.target instanceof Element&&this.delegate.shouldInterceptLinkClick(event.target,event.detail.url)&&(this.clickEvent.preventDefault(),event.preventDefault(),this.delegate.linkClickIntercepted(event.target,event.detail.url)),delete this.clickEvent},this.willVisit=()=>{delete this.clickEvent},this.delegate=delegate,this.element=element}start(){this.element.addEventListener("click",this.clickBubbled),document.addEventListener("turbo:click",this.linkClicked),document.addEventListener("turbo:before-visit",this.willVisit)}stop(){this.element.removeEventListener("click",this.clickBubbled),document.removeEventListener("turbo:click",this.linkClicked),document.removeEventListener("turbo:before-visit",this.willVisit)}respondsToEventTarget(target){target=target instanceof Element?target:target instanceof Node?target.parentElement:null;return target&&target.closest("turbo-frame, html")==this.element}}class Bardo{constructor(permanentElementMap){this.permanentElementMap=permanentElementMap}static preservingPermanentElements(permanentElementMap,callback){permanentElementMap=new this(permanentElementMap);permanentElementMap.enter(),callback(),permanentElementMap.leave()}enter(){for(const id in this.permanentElementMap){var[,newPermanentElement]=this.permanentElementMap[id];this.replaceNewPermanentElementWithPlaceholder(newPermanentElement)}}leave(){for(const id in this.permanentElementMap){var[currentPermanentElement]=this.permanentElementMap[id];this.replaceCurrentPermanentElementWithClone(currentPermanentElement),this.replacePlaceholderWithPermanentElement(currentPermanentElement)}}replaceNewPermanentElementWithPlaceholder(permanentElement){var placeholder=function createPlaceholderForPermanentElement(permanentElement){var element=document.createElement("meta");return element.setAttribute("name","turbo-permanent-placeholder"),element.setAttribute("content",permanentElement.id),element}(permanentElement);permanentElement.replaceWith(placeholder)}replaceCurrentPermanentElementWithClone(permanentElement){var clone=permanentElement.cloneNode(!0);permanentElement.replaceWith(clone)}replacePlaceholderWithPermanentElement(permanentElement){var placeholder=this.getPlaceholderById(permanentElement.id);null!=placeholder&&placeholder.replaceWith(permanentElement)}getPlaceholderById(id){return this.placeholders.find(element=>element.content==id)}get placeholders(){return[…document.querySelectorAll("meta[name=turbo-permanent-placeholder][content]")]}}class Renderer{constructor(currentSnapshot,newSnapshot,isPreview,willRender=!0){this.currentSnapshot=currentSnapshot,this.newSnapshot=newSnapshot,this.isPreview=isPreview,this.willRender=willRender,this.promise=new Promise((resolve,reject)=>this.resolvingFunctions={resolve:resolve,reject:reject})}get shouldRender(){return!0}prepareToRender(){}finishRendering(){this.resolvingFunctions&&(this.resolvingFunctions.resolve(),delete this.resolvingFunctions)}createScriptElement(element){var createdScriptElement;return"false"==element.getAttribute("data-turbo-eval")?element:(createdScriptElement=document.createElement("script"),this.cspNonce&&(createdScriptElement.nonce=this.cspNonce),createdScriptElement.textContent=element.textContent,createdScriptElement.async=!1,function copyElementAttributes(destinationElement,sourceElement){for(var{name,value}of[…sourceElement.attributes])destinationElement.setAttribute(name,value)}(createdScriptElement,element),createdScriptElement)}preservingPermanentElements(callback){Bardo.preservingPermanentElements(this.permanentElementMap,callback)}focusFirstAutofocusableElement(){var element=this.connectedSnapshot.firstAutofocusableElement;!function elementIsFocusable(element){return element&&"function"==typeof element.focus}(element)||element.focus()}get connectedSnapshot(){return this.newSnapshot.isConnected?this.newSnapshot:this.currentSnapshot}get currentElement(){return this.currentSnapshot.element}get newElement(){return this.newSnapshot.element}get permanentElementMap(){return this.currentSnapshot.getPermanentElementMapForSnapshot(this.newSnapshot)}get cspNonce(){var _a;return null==(_a=document.head.querySelector('meta[name="csp-nonce"]'))?void 0:_a.getAttribute("content")}}class FrameRenderer extends Renderer{get shouldRender(){return!0}render(){return __async$3(this,null,function*(){yield nextAnimationFrame(),this.preservingPermanentElements(()=>{this.loadFrameElement()}),this.scrollFrameIntoView(),yield nextAnimationFrame(),this.focusFirstAutofocusableElement(),yield nextAnimationFrame(),this.activateScriptElements()})}loadFrameElement(){var destinationRange=document.createRange(),destinationRange=(destinationRange.selectNodeContents(this.currentElement),destinationRange.deleteContents(),this.newElement),_a=null==(_a=destinationRange.ownerDocument)?void 0:_a.createRange();_a&&(_a.selectNodeContents(destinationRange),this.currentElement.appendChild(_a.extractContents()))}scrollFrameIntoView(){if(this.currentElement.autoscroll||this.newElement.autoscroll){var element=this.currentElement.firstElementChild,block=function readScrollLogicalPosition(value,defaultValue){return"end"==value||"start"==value||"center"==value||"nearest"==value?value:defaultValue}(this.currentElement.getAttribute("data-autoscroll-block"),"end");if(element)return element.scrollIntoView({block:block}),!0}return!1}activateScriptElements(){for(const inertScriptElement of this.newScriptElements){var activatedScriptElement=this.createScriptElement(inertScriptElement);inertScriptElement.replaceWith(activatedScriptElement)}}get newScriptElements(){return this.currentElement.querySelectorAll("script")}}class ProgressBar{constructor(){this.hiding=!1,this.value=0,this.visible=!1,this.trickle=()=>{this.setValue(this.value+Math.random()/100)},this.stylesheetElement=this.createStylesheetElement(),this.progressElement=this.createProgressElement(),this.installStylesheetElement(),this.setValue(0)}static get defaultCSS(){return unindent`
.turbo-progress-bar {
position: fixed;
display: block;
top: 0;
left: 0;
height: 3px;
background: #0076ff;
z-index: 9999;
transition:
width ${ProgressBar.animationDuration}ms ease-out,
opacity ${ProgressBar.animationDuration/2}ms ${ProgressBar.animationDuration/2}ms ease-in;
transform: translate3d(0, 0, 0);
}
`}show(){this.visible||(this.visible=!0,this.installProgressElement(),this.startTrickling())}hide(){this.visible&&!this.hiding&&(this.hiding=!0,this.fadeProgressElement(()=>{this.uninstallProgressElement(),this.stopTrickling(),this.visible=!1,this.hiding=!1}))}setValue(value){this.value=value,this.refresh()}installStylesheetElement(){document.head.insertBefore(this.stylesheetElement,document.head.firstChild)}installProgressElement(){this.progressElement.style.width="0″,this.progressElement.style.opacity="1″,document.documentElement.insertBefore(this.progressElement,document.body),this.refresh()}fadeProgressElement(callback){this.progressElement.style.opacity="0″,setTimeout(callback,1.5*ProgressBar.animationDuration)}uninstallProgressElement(){this.progressElement.parentNode&&document.documentElement.removeChild(this.progressElement)}startTrickling(){this.trickleInterval||(this.trickleInterval=window.setInterval(this.trickle,ProgressBar.animationDuration))}stopTrickling(){window.clearInterval(this.trickleInterval),delete this.trickleInterval}refresh(){requestAnimationFrame(()=>{this.progressElement.style.width=10+90*this.value+"%"})}createStylesheetElement(){var element=document.createElement("style");return element.type="text/css",element.textContent=ProgressBar.defaultCSS,element}createProgressElement(){var element=document.createElement("div");return element.className="turbo-progress-bar",element}}ProgressBar.animationDuration=300;class HeadSnapshot extends Snapshot{constructor(){super(…arguments),this.detailsByOuterHTML=this.children.filter(element=>!function elementIsNoscript(element){element=element.tagName.toLowerCase();return"noscript"==element}(element)).map(element=>function elementWithoutNonce(element){element.hasAttribute("nonce")&&element.setAttribute("nonce","");return element}(element)).reduce((result,element)=>{var outerHTML=element["outerHTML"],details=outerHTML in result?result[outerHTML]:{type:function elementType(element){return function elementIsScript(element){element=element.tagName.toLowerCase();return"script"==element}(element)?"script":function elementIsStylesheet(element){var tagName=element.tagName.toLowerCase();return"style"==tagName||"link"==tagName&&"stylesheet"==element.getAttribute("rel")}(element)?"stylesheet":void 0}(element),tracked:function elementIsTracked(element){return"reload"==element.getAttribute("data-turbo-track")}(element),elements:[]};return Object.assign(Object.assign({},result),{[outerHTML]:Object.assign(Object.assign({},details),{elements:[…details.elements,element]})})},{})}get trackedElementSignature(){return Object.keys(this.detailsByOuterHTML).filter(outerHTML=>this.detailsByOuterHTML[outerHTML].tracked).join("")}getScriptElementsNotInSnapshot(snapshot){return this.getElementsMatchingTypeNotInSnapshot("script",snapshot)}getStylesheetElementsNotInSnapshot(snapshot){return this.getElementsMatchingTypeNotInSnapshot("stylesheet",snapshot)}getElementsMatchingTypeNotInSnapshot(matchedType,snapshot){return Object.keys(this.detailsByOuterHTML).filter(outerHTML=>!(outerHTML in snapshot.detailsByOuterHTML)).map(outerHTML=>this.detailsByOuterHTML[outerHTML]).filter(({type})=>type==matchedType).map(({elements:[element]})=>element)}get provisionalElements(){return Object.keys(this.detailsByOuterHTML).reduce((result,outerHTML)=>{var{type:outerHTML,tracked,elements}=this.detailsByOuterHTML[outerHTML];return null!=outerHTML||tracked?1{var[outerHTML]=this.detailsByOuterHTML[outerHTML]["elements"];return function elementIsMetaElementWithName(element,name){var tagName=element.tagName.toLowerCase();return"meta"==tagName&&element.getAttribute("name")==name}(outerHTML,name)?outerHTML:result},void 0)}}class PageSnapshot extends Snapshot{constructor(element,headSnapshot){super(element),this.headSnapshot=headSnapshot}static fromHTMLString(html=""){return this.fromDocument(parseHTMLDocument(html))}static fromElement(element){return this.fromDocument(element.ownerDocument)}static fromDocument({head,body}){return new this(body,new HeadSnapshot(head))}clone(){return new PageSnapshot(this.element.cloneNode(!0),this.headSnapshot)}get headElement(){return this.headSnapshot.element}get rootLocation(){var _a;return expandURL(null!=(_a=this.getSetting("root"))?_a:"/")}get cacheControlValue(){return this.getSetting("cache-control")}get isPreviewable(){return"no-preview"!=this.cacheControlValue}get isCacheable(){return"no-cache"!=this.cacheControlValue}get isVisitable(){return"reload"!=this.getSetting("visit-control")}getSetting(name){return this.headSnapshot.getMetaValue("turbo-"+name)}}(prototype=TimingMetric=TimingMetric||{}).visitStart="visitStart",prototype.requestStart="requestStart",prototype.requestEnd="requestEnd",prototype.visitEnd="visitEnd",(prototype=VisitState=VisitState||{}).initialized="initialized",prototype.started="started",prototype.canceled="canceled",prototype.failed="failed";const defaultOptions={action:"advance",historyChanged:!(prototype.completed="completed"),visitCachedSnapshot:()=>{},willRender:!0};(prototype=SystemStatusCode=SystemStatusCode||{})[prototype.networkFailure=0]="networkFailure",prototype[prototype.timeoutFailure=-1]="timeoutFailure",prototype[prototype.contentTypeMismatch=-2]="contentTypeMismatch";class Visit{constructor(delegate,location2,restorationIdentifier,options={}){this.identifier=uuid(),this.timingMetrics={},this.followedRedirect=!1,this.historyChanged=!1,this.scrolled=!1,this.snapshotCached=!1,this.state=VisitState.initialized,this.delegate=delegate,this.location=location2,this.restorationIdentifier=restorationIdentifier||uuid();var{action:delegate,historyChanged:location2,referrer:restorationIdentifier,snapshotHTML:options,response,visitCachedSnapshot,willRender}=Object.assign(Object.assign({},defaultOptions),options);this.action=delegate,this.historyChanged=location2,this.referrer=restorationIdentifier,this.snapshotHTML=options,this.response=response,this.isSamePage=this.delegate.locationWithActionIsSamePage(this.location,this.action),this.visitCachedSnapshot=visitCachedSnapshot,this.willRender=willRender,this.scrolled=!willRender}get adapter(){return this.delegate.adapter}get view(){return this.delegate.view}get history(){return this.delegate.history}get restorationData(){return this.history.getRestorationDataForIdentifier(this.restorationIdentifier)}get silent(){return this.isSamePage}start(){this.state==VisitState.initialized&&(this.recordTimingMetric(TimingMetric.visitStart),this.state=VisitState.started,this.adapter.visitStarted(this),this.delegate.visitStarted(this))}cancel(){this.state==VisitState.started&&(this.request&&this.request.cancel(),this.cancelRender(),this.state=VisitState.canceled)}complete(){this.state==VisitState.started&&(this.recordTimingMetric(TimingMetric.visitEnd),this.state=VisitState.completed,this.adapter.visitCompleted(this),this.delegate.visitCompleted(this),this.followRedirect())}fail(){this.state==VisitState.started&&(this.state=VisitState.failed,this.adapter.visitFailed(this))}changeHistory(){var _a;this.historyChanged||(_a=this.location.href===(null==(_a=this.referrer)?void 0:_a.href)?"replace":this.action,_a=this.getHistoryMethodForAction(_a),this.history.update(_a,this.location,this.restorationIdentifier),this.historyChanged=!0)}issueRequest(){this.hasPreloadedResponse()?this.simulateRequest():this.shouldIssueRequest()&&!this.request&&(this.request=new FetchRequest(this,FetchMethod.get,this.location),this.request.perform())}simulateRequest(){this.response&&(this.startRequest(),this.recordResponse(),this.finishRequest())}startRequest(){this.recordTimingMetric(TimingMetric.requestStart),this.adapter.visitRequestStarted(this)}recordResponse(response=this.response){(this.response=response)&&(response=response["statusCode"],isSuccessful(response)?this.adapter.visitRequestCompleted(this):this.adapter.visitRequestFailedWithStatusCode(this,response))}finishRequest(){this.recordTimingMetric(TimingMetric.requestEnd),this.adapter.visitRequestFinished(this)}loadResponse(){if(this.response){const{statusCode,responseHTML}=this.response;this.render(()=>__async$3(this,null,function*(){this.cacheSnapshot(),this.view.renderPromise&&(yield this.view.renderPromise),isSuccessful(statusCode)&&null!=responseHTML?(yield this.view.renderPage(PageSnapshot.fromHTMLString(responseHTML),!1,this.willRender),this.adapter.visitRendered(this),this.complete()):(yield this.view.renderError(PageSnapshot.fromHTMLString(responseHTML)),this.adapter.visitRendered(this),this.fail())}))}}getCachedSnapshot(){var snapshot=this.view.getCachedSnapshotForLocation(this.location)||this.getPreloadedSnapshot();if(snapshot&&(!getAnchor(this.location)||snapshot.hasAnchor(getAnchor(this.location)))&&("restore"==this.action||snapshot.isPreviewable))return snapshot}getPreloadedSnapshot(){if(this.snapshotHTML)return PageSnapshot.fromHTMLString(this.snapshotHTML)}hasCachedSnapshot(){return null!=this.getCachedSnapshot()}loadCachedSnapshot(){const snapshot=this.getCachedSnapshot();if(snapshot){const isPreview=this.shouldIssueRequest();this.render(()=>__async$3(this,null,function*(){this.cacheSnapshot(),this.isSamePage?this.adapter.visitRendered(this):(this.view.renderPromise&&(yield this.view.renderPromise),yield this.view.renderPage(snapshot,isPreview,this.willRender),this.adapter.visitRendered(this),isPreview||this.complete())}))}}followRedirect(){var _a;this.redirectedToLocation&&!this.followedRedirect&&null!=(_a=this.response)&&_a.redirected&&(this.adapter.visitProposedToLocation(this.redirectedToLocation,{action:"replace",response:this.response}),this.followedRedirect=!0)}goToSamePageAnchor(){this.isSamePage&&this.render(()=>__async$3(this,null,function*(){this.cacheSnapshot(),this.adapter.visitRendered(this)}))}requestStarted(){this.startRequest()}requestPreventedHandlingResponse(request,response){}requestSucceededWithResponse(request,response){return __async$3(this,null,function*(){var responseHTML=yield response.responseHTML,{redirected,statusCode}=response;null==responseHTML?this.recordResponse({statusCode:SystemStatusCode.contentTypeMismatch,redirected:redirected}):(this.redirectedToLocation=response.redirected?response.location:void 0,this.recordResponse({statusCode:statusCode,responseHTML:responseHTML,redirected:redirected}))})}requestFailedWithResponse(request,response){return __async$3(this,null,function*(){var responseHTML=yield response.responseHTML,{redirected,statusCode}=response;null==responseHTML?this.recordResponse({statusCode:SystemStatusCode.contentTypeMismatch,redirected:redirected}):this.recordResponse({statusCode:statusCode,responseHTML:responseHTML,redirected:redirected})})}requestErrored(request,error){this.recordResponse({statusCode:SystemStatusCode.networkFailure,redirected:!1})}requestFinished(){this.finishRequest()}performScroll(){this.scrolled||("restore"==this.action?this.scrollToRestoredPosition()||this.scrollToAnchor()||this.view.scrollToTop():this.scrollToAnchor()||this.view.scrollToTop(),this.isSamePage&&this.delegate.visitScrolledToSamePageLocation(this.view.lastRenderedLocation,this.location),this.scrolled=!0)}scrollToRestoredPosition(){var scrollPosition=this.restorationData["scrollPosition"];if(scrollPosition)return this.view.scrollToPosition(scrollPosition),!0}scrollToAnchor(){var anchor=getAnchor(this.location);if(null!=anchor)return this.view.scrollToAnchor(anchor),!0}recordTimingMetric(metric){this.timingMetrics[metric]=(new Date).getTime()}getTimingMetrics(){return Object.assign({},this.timingMetrics)}getHistoryMethodForAction(action){switch(action){case"replace":return history.replaceState;case"advance":case"restore":return history.pushState}}hasPreloadedResponse(){return"object"==typeof this.response}shouldIssueRequest(){return!this.isSamePage&&("restore"==this.action?!this.hasCachedSnapshot():this.willRender)}cacheSnapshot(){this.snapshotCached||(this.view.cacheSnapshot().then(snapshot=>snapshot&&this.visitCachedSnapshot(snapshot)),this.snapshotCached=!0)}render(callback){return __async$3(this,null,function*(){this.cancelRender(),yield new Promise(resolve=>{this.frame=requestAnimationFrame(()=>resolve())}),yield callback(),delete this.frame,this.performScroll()})}cancelRender(){this.frame&&(cancelAnimationFrame(this.frame),delete this.frame)}}function isSuccessful(statusCode){return 200<=statusCode&&statusCode{this.progressBar.show()},this.session=session2}visitProposedToLocation(location2,options){this.navigator.startVisit(location2,uuid(),options)}visitStarted(visit2){visit2.loadCachedSnapshot(),visit2.issueRequest(),visit2.changeHistory(),visit2.goToSamePageAnchor()}visitRequestStarted(visit2){this.progressBar.setValue(0),visit2.hasCachedSnapshot()||"restore"!=visit2.action?this.showVisitProgressBarAfterDelay():this.showProgressBar()}visitRequestCompleted(visit2){visit2.loadResponse()}visitRequestFailedWithStatusCode(visit2,statusCode){switch(statusCode){case SystemStatusCode.networkFailure:case SystemStatusCode.timeoutFailure:case SystemStatusCode.contentTypeMismatch:return this.reload();default:return visit2.loadResponse()}}visitRequestFinished(visit2){this.progressBar.setValue(1),this.hideVisitProgressBar()}visitCompleted(visit2){}pageInvalidated(){this.reload()}visitFailed(visit2){}visitRendered(visit2){}formSubmissionStarted(formSubmission){this.progressBar.setValue(0),this.showFormProgressBarAfterDelay()}formSubmissionFinished(formSubmission){this.progressBar.setValue(1),this.hideFormProgressBar()}showVisitProgressBarAfterDelay(){this.visitProgressBarTimeout=window.setTimeout(this.showProgressBar,this.session.progressBarDelay)}hideVisitProgressBar(){this.progressBar.hide(),null!=this.visitProgressBarTimeout&&(window.clearTimeout(this.visitProgressBarTimeout),delete this.visitProgressBarTimeout)}showFormProgressBarAfterDelay(){null==this.formProgressBarTimeout&&(this.formProgressBarTimeout=window.setTimeout(this.showProgressBar,this.session.progressBarDelay))}hideFormProgressBar(){this.progressBar.hide(),null!=this.formProgressBarTimeout&&(window.clearTimeout(this.formProgressBarTimeout),delete this.formProgressBarTimeout)}reload(){window.location.reload()}get navigator(){return this.session.navigator}}class CacheObserver{constructor(){this.started=!1}start(){this.started||(this.started=!0,addEventListener("turbo:before-cache",this.removeStaleElements,!1))}stop(){this.started&&(this.started=!1,removeEventListener("turbo:before-cache",this.removeStaleElements,!1))}removeStaleElements(){for(const element of[...document.querySelectorAll('[data-turbo-cache="false"]')])element.remove()}}class FormSubmitObserver{constructor(delegate){this.started=!1,this.submitCaptured=()=>{removeEventListener("submit",this.submitBubbled,!1),addEventListener("submit",this.submitBubbled,!1)},this.submitBubbled=event=>{var form,submitter;event.defaultPrevented||(form=event.target instanceof HTMLFormElement?event.target:void 0,submitter=event.submitter||void 0,form&&"dialog"!=((null==submitter?void 0:submitter.getAttribute("formmethod"))||form.getAttribute("method"))&&this.delegate.willSubmitForm(form,submitter)&&(event.preventDefault(),this.delegate.formSubmitted(form,submitter)))},this.delegate=delegate}start(){this.started||(addEventListener("submit",this.submitCaptured,!0),this.started=!0)}stop(){this.started&&(removeEventListener("submit",this.submitCaptured,!0),this.started=!1)}}class FrameRedirector{constructor(element){this.element=element,this.linkInterceptor=new LinkInterceptor(this,element),this.formInterceptor=new FormInterceptor(this,element)}start(){this.linkInterceptor.start(),this.formInterceptor.start()}stop(){this.linkInterceptor.stop(),this.formInterceptor.stop()}shouldInterceptLinkClick(element,url){return this.shouldRedirect(element)}linkClickIntercepted(element,url){var frame=this.findFrameElement(element);frame&&frame.delegate.linkClickIntercepted(element,url)}shouldInterceptFormSubmission(element,submitter){return this.shouldSubmit(element,submitter)}formSubmissionIntercepted(element,submitter){var frame=this.findFrameElement(element,submitter);frame&&(frame.removeAttribute("reloadable"),frame.delegate.formSubmissionIntercepted(element,submitter))}shouldSubmit(form,submitter){var action=getAction(form,submitter),meta=this.element.ownerDocument.querySelector('meta[name="turbo-root"]'),meta=expandURL(null!=(meta=null==meta?void 0:meta.content)?meta:"/");return this.shouldRedirect(form,submitter)&&locationIsVisitable(action,meta)}shouldRedirect(element,submitter){submitter=this.findFrameElement(element,submitter);return!!submitter&&submitter!=element.closest("turbo-frame")}findFrameElement(element,submitter){submitter=(null==submitter?void 0:submitter.getAttribute("data-turbo-frame"))||element.getAttribute("data-turbo-frame");if(submitter&&"_top"!=submitter){element=this.element.querySelector(`#${submitter}:not([disabled])`);if(element instanceof FrameElement)return element}}}class History{constructor(delegate){this.restorationIdentifier=uuid(),this.restorationData={},this.started=!1,this.pageLoaded=!1,this.onPopState=event=>{this.shouldHandlePopState()&&(event=(event.state||{})["turbo"],event&&(this.location=new URL(window.location.href),event=event["restorationIdentifier"],this.restorationIdentifier=event,this.delegate.historyPoppedToLocationWithRestorationIdentifier(this.location,event)))},this.onPageLoad=event=>__async$3(this,null,function*(){yield function nextMicrotask(){return Promise.resolve()}(),this.pageLoaded=!0}),this.delegate=delegate}start(){this.started||(addEventListener("popstate",this.onPopState,!1),addEventListener("load",this.onPageLoad,!1),this.started=!0,this.replace(new URL(window.location.href)))}stop(){this.started&&(removeEventListener("popstate",this.onPopState,!1),removeEventListener("load",this.onPageLoad,!1),this.started=!1)}push(location2,restorationIdentifier){this.update(history.pushState,location2,restorationIdentifier)}replace(location2,restorationIdentifier){this.update(history.replaceState,location2,restorationIdentifier)}update(method,location2,restorationIdentifier=uuid()){method.call(history,{turbo:{restorationIdentifier:restorationIdentifier}},"",location2.href),this.location=location2,this.restorationIdentifier=restorationIdentifier}getRestorationDataForIdentifier(restorationIdentifier){return this.restorationData[restorationIdentifier]||{}}updateRestorationData(additionalData){var restorationIdentifier=this["restorationIdentifier"],restorationData=this.restorationData[restorationIdentifier];this.restorationData[restorationIdentifier]=Object.assign(Object.assign({},restorationData),additionalData)}assumeControlOfScrollRestoration(){var _a;this.previousScrollRestoration||(this.previousScrollRestoration=null!=(_a=history.scrollRestoration)?_a:"auto",history.scrollRestoration="manual")}relinquishControlOfScrollRestoration(){this.previousScrollRestoration&&(history.scrollRestoration=this.previousScrollRestoration,delete this.previousScrollRestoration)}shouldHandlePopState(){return this.pageIsLoaded()}pageIsLoaded(){return this.pageLoaded||"complete"==document.readyState}}class LinkClickObserver{constructor(delegate){this.started=!1,this.clickCaptured=()=>{removeEventListener("click",this.clickBubbled,!1),addEventListener("click",this.clickBubbled,!1)},this.clickBubbled=event=>{var target,location2;this.clickEventIsSignificant(event)&&(target=event.composedPath&&event.composedPath()[0]||event.target,(target=this.findLinkFromClickTarget(target))&&(location2=this.getLocationForLink(target),this.delegate.willFollowLinkToLocation(target,location2)&&(event.preventDefault(),this.delegate.followedLinkToLocation(target,location2))))},this.delegate=delegate}start(){this.started||(addEventListener("click",this.clickCaptured,!0),this.started=!0)}stop(){this.started&&(removeEventListener("click",this.clickCaptured,!0),this.started=!1)}clickEventIsSignificant(event){return!(event.target&&event.target.isContentEditable||event.defaultPrevented||1{var readyState=this["readyState"];"interactive"==readyState?this.pageIsInteractive():"complete"==readyState&&this.pageIsComplete()},this.pageWillUnload=()=>{this.delegate.pageWillUnload()},this.delegate=delegate}start(){this.started||(this.stage==PageStage.initial&&(this.stage=PageStage.loading),document.addEventListener("readystatechange",this.interpretReadyState,!1),addEventListener("pagehide",this.pageWillUnload,!1),this.started=!0)}stop(){this.started&&(document.removeEventListener("readystatechange",this.interpretReadyState,!1),removeEventListener("pagehide",this.pageWillUnload,!1),this.started=!1)}pageIsInteractive(){this.stage==PageStage.loading&&(this.stage=PageStage.interactive,this.delegate.pageBecameInteractive())}pageIsComplete(){this.pageIsInteractive(),this.stage==PageStage.interactive&&(this.stage=PageStage.complete,this.delegate.pageLoaded())}get readyState(){return document.readyState}}class ScrollObserver{constructor(delegate){this.started=!1,this.onScroll=()=>{this.updatePosition({x:window.pageXOffset,y:window.pageYOffset})},this.delegate=delegate}start(){this.started||(addEventListener("scroll",this.onScroll,!1),this.onScroll(),this.started=!0)}stop(){this.started&&(removeEventListener("scroll",this.onScroll,!1),this.started=!1)}updatePosition(position){this.delegate.scrollPositionChanged(position)}}class StreamObserver{constructor(delegate){this.sources=new Set,this.started=!1,this.inspectFetchResponse=event=>{var response=function fetchResponseFromEvent(event){event=null==(event=event.detail)?void 0:event.fetchResponse;if(event instanceof FetchResponse)return event}(event);response&&function fetchResponseIsStream(response){response=null!=(response=response.contentType)?response:"";return response.startsWith(StreamMessage.contentType)}(response)&&(event.preventDefault(),this.receiveMessageResponse(response))},this.receiveMessageEvent=event=>{this.started&&"string"==typeof event.data&&this.receiveMessageHTML(event.data)},this.delegate=delegate}start(){this.started||(this.started=!0,addEventListener("turbo:before-fetch-response",this.inspectFetchResponse,!1))}stop(){this.started&&(this.started=!1,removeEventListener("turbo:before-fetch-response",this.inspectFetchResponse,!1))}connectStreamSource(source){this.streamSourceIsConnected(source)||(this.sources.add(source),source.addEventListener("message",this.receiveMessageEvent,!1))}disconnectStreamSource(source){this.streamSourceIsConnected(source)&&(this.sources.delete(source),source.removeEventListener("message",this.receiveMessageEvent,!1))}streamSourceIsConnected(source){return this.sources.has(source)}receiveMessageResponse(response){return __async$3(this,null,function*(){var html=yield response.responseHTML;html&&this.receiveMessageHTML(html)})}receiveMessageHTML(html){this.delegate.receivedMessageFromStream(new StreamMessage(html))}}class ErrorRenderer extends Renderer{render(){return __async$3(this,null,function*(){this.replaceHeadAndBody(),this.activateScriptElements()})}replaceHeadAndBody(){var{documentElement,head,body}=document;documentElement.replaceChild(this.newHead,head),documentElement.replaceChild(this.newElement,body)}activateScriptElements(){for(const replaceableElement of this.scriptElements){var element,parentNode=replaceableElement.parentNode;parentNode&&(element=this.createScriptElement(replaceableElement),parentNode.replaceChild(element,replaceableElement))}}get newHead(){return this.newSnapshot.headSnapshot.element}get scriptElements(){return[…document.documentElement.querySelectorAll("script")]}}class PageRenderer extends Renderer{get shouldRender(){return this.newSnapshot.isVisitable&&this.trackedElementsAreIdentical}prepareToRender(){this.mergeHead()}render(){return __async$3(this,null,function*(){this.willRender&&this.replaceBody()})}finishRendering(){super.finishRendering(),this.isPreview||this.focusFirstAutofocusableElement()}get currentHeadSnapshot(){return this.currentSnapshot.headSnapshot}get newHeadSnapshot(){return this.newSnapshot.headSnapshot}get newElement(){return this.newSnapshot.element}mergeHead(){this.copyNewHeadStylesheetElements(),this.copyNewHeadScriptElements(),this.removeCurrentHeadProvisionalElements(),this.copyNewHeadProvisionalElements()}replaceBody(){this.preservingPermanentElements(()=>{this.activateNewBody(),this.assignNewBody()})}get trackedElementsAreIdentical(){return this.currentHeadSnapshot.trackedElementSignature==this.newHeadSnapshot.trackedElementSignature}copyNewHeadStylesheetElements(){for(const element of this.newHeadStylesheetElements)document.head.appendChild(element)}copyNewHeadScriptElements(){for(const element of this.newHeadScriptElements)document.head.appendChild(this.createScriptElement(element))}removeCurrentHeadProvisionalElements(){for(const element of this.currentHeadProvisionalElements)document.head.removeChild(element)}copyNewHeadProvisionalElements(){for(const element of this.newHeadProvisionalElements)document.head.appendChild(element)}activateNewBody(){document.adoptNode(this.newElement),this.activateNewBodyScriptElements()}activateNewBodyScriptElements(){for(const inertScriptElement of this.newBodyScriptElements){var activatedScriptElement=this.createScriptElement(inertScriptElement);inertScriptElement.replaceWith(activatedScriptElement)}}assignNewBody(){document.body&&this.newElement instanceof HTMLBodyElement?document.body.replaceWith(this.newElement):document.documentElement.appendChild(this.newElement)}get newHeadStylesheetElements(){return this.newHeadSnapshot.getStylesheetElementsNotInSnapshot(this.currentHeadSnapshot)}get newHeadScriptElements(){return this.newHeadSnapshot.getScriptElementsNotInSnapshot(this.currentHeadSnapshot)}get currentHeadProvisionalElements(){return this.currentHeadSnapshot.provisionalElements}get newHeadProvisionalElements(){return this.newHeadSnapshot.provisionalElements}get newBodyScriptElements(){return this.newElement.querySelectorAll("script")}}class SnapshotCache{constructor(size){this.keys=[],this.snapshots={},this.size=size}has(location2){return toCacheKey(location2)in this.snapshots}get(location2){var snapshot;if(this.has(location2))return snapshot=this.read(location2),this.touch(location2),snapshot}put(location2,snapshot){return this.write(location2,snapshot),this.touch(location2),snapshot}clear(){this.snapshots={}}read(location2){return this.snapshots[toCacheKey(location2)]}write(location2,snapshot){this.snapshots[toCacheKey(location2)]=snapshot}touch(location2){var location2=toCacheKey(location2),index=this.keys.indexOf(location2);-1setTimeout(()=>resolve(),0))}(),snapshot=snapshot.clone(),this.snapshotCache.put(location2,snapshot),snapshot})}getCachedSnapshotForLocation(location2){return this.snapshotCache.get(location2)}get snapshot(){return PageSnapshot.fromElement(this.element)}get shouldCacheSnapshot(){return this.snapshot.isCacheable}}function extendURLWithDeprecatedProperties(url){Object.defineProperties(url,deprecatedLocationPropertyDescriptors)}const deprecatedLocationPropertyDescriptors={absoluteURL:{get(){return this.toString()}}},session=new class Session{constructor(){this.navigator=new Navigator(this),this.history=new History(this),this.view=new PageView(this,document.documentElement),this.adapter=new BrowserAdapter(this),this.pageObserver=new PageObserver(this),this.cacheObserver=new CacheObserver,this.linkClickObserver=new LinkClickObserver(this),this.formSubmitObserver=new FormSubmitObserver(this),this.scrollObserver=new ScrollObserver(this),this.streamObserver=new StreamObserver(this),this.frameRedirector=new FrameRedirector(document.documentElement),this.drive=!0,this.enabled=!0,this.progressBarDelay=500,this.started=!1}start(){this.started||(this.pageObserver.start(),this.cacheObserver.start(),this.linkClickObserver.start(),this.formSubmitObserver.start(),this.scrollObserver.start(),this.streamObserver.start(),this.frameRedirector.start(),this.history.start(),this.started=!0,this.enabled=!0)}disable(){this.enabled=!1}stop(){this.started&&(this.pageObserver.stop(),this.cacheObserver.stop(),this.linkClickObserver.stop(),this.formSubmitObserver.stop(),this.scrollObserver.stop(),this.streamObserver.stop(),this.frameRedirector.stop(),this.history.stop(),this.started=!1)}registerAdapter(adapter){this.adapter=adapter}visit(location2,options={}){this.navigator.proposeVisit(expandURL(location2),options)}connectStreamSource(source){this.streamObserver.connectStreamSource(source)}disconnectStreamSource(source){this.streamObserver.disconnectStreamSource(source)}renderStreamMessage(message){document.documentElement.appendChild(StreamMessage.wrap(message).fragment)}clearCache(){this.view.clearSnapshotCache()}setProgressBarDelay(delay){this.progressBarDelay=delay}get location(){return this.history.location}get restorationIdentifier(){return this.history.restorationIdentifier}historyPoppedToLocationWithRestorationIdentifier(location2,restorationIdentifier){this.enabled?this.navigator.startVisit(location2,restorationIdentifier,{action:"restore",historyChanged:!0}):this.adapter.pageInvalidated()}scrollPositionChanged(position){this.history.updateRestorationData({scrollPosition:position})}willFollowLinkToLocation(link,location2){return this.elementDriveEnabled(link)&&locationIsVisitable(location2,this.snapshot.rootLocation)&&this.applicationAllowsFollowingLinkToLocation(link,location2)}followedLinkToLocation(link,location2){var action=this.getActionForLink(link);this.convertLinkWithMethodClickToFormSubmission(link)||this.visit(location2.href,{action:action})}convertLinkWithMethodClickToFormSubmission(link){var linkMethod=link.getAttribute("data-turbo-method");if(linkMethod){const form=document.createElement("form");form.method=linkMethod,form.action=link.getAttribute("href")||"undefined",form.hidden=!0,link.hasAttribute("data-turbo-confirm")&&form.setAttribute("data-turbo-confirm",link.getAttribute("data-turbo-confirm"));linkMethod=this.getTargetFrameForLink(link);return linkMethod?(form.setAttribute("data-turbo-frame",linkMethod),form.addEventListener("turbo:submit-start",()=>form.remove())):form.addEventListener("submit",()=>form.remove()),document.body.appendChild(form),dispatch("submit",{cancelable:!0,target:form})}return!1}allowsVisitingLocationWithAction(location2,action){return this.locationWithActionIsSamePage(location2,action)||this.applicationAllowsVisitingLocation(location2)}visitProposedToLocation(location2,options){extendURLWithDeprecatedProperties(location2),this.adapter.visitProposedToLocation(location2,options)}visitStarted(visit2){extendURLWithDeprecatedProperties(visit2.location),visit2.silent||this.notifyApplicationAfterVisitingLocation(visit2.location,visit2.action)}visitCompleted(visit2){this.notifyApplicationAfterPageLoad(visit2.getTimingMetrics())}locationWithActionIsSamePage(location2,action){return this.navigator.locationWithActionIsSamePage(location2,action)}visitScrolledToSamePageLocation(oldURL,newURL){this.notifyApplicationAfterVisitingSamePageLocation(oldURL,newURL)}willSubmitForm(form,submitter){var action=getAction(form,submitter);return this.elementDriveEnabled(form)&&(!submitter||this.elementDriveEnabled(submitter))&&locationIsVisitable(expandURL(action),this.snapshot.rootLocation)}formSubmitted(form,submitter){this.navigator.submitForm(form,submitter)}pageBecameInteractive(){this.view.lastRenderedLocation=this.location,this.notifyApplicationAfterPageLoad()}pageLoaded(){this.history.assumeControlOfScrollRestoration()}pageWillUnload(){this.history.relinquishControlOfScrollRestoration()}receivedMessageFromStream(message){this.renderStreamMessage(message)}viewWillCacheSnapshot(){var _a;null!=(_a=this.navigator.currentVisit)&&_a.silent||this.notifyApplicationBeforeCachingSnapshot()}allowsImmediateRender({element},resume){return!this.notifyApplicationBeforeRender(element,resume).defaultPrevented}viewRenderedSnapshot(snapshot,isPreview){this.view.lastRenderedLocation=this.history.location,this.notifyApplicationAfterRender()}viewInvalidated(){this.adapter.pageInvalidated()}frameLoaded(frame){this.notifyApplicationAfterFrameLoad(frame)}frameRendered(fetchResponse,frame){this.notifyApplicationAfterFrameRender(fetchResponse,frame)}applicationAllowsFollowingLinkToLocation(link,location2){return!this.notifyApplicationAfterClickingLinkToLocation(link,location2).defaultPrevented}applicationAllowsVisitingLocation(location2){return!this.notifyApplicationBeforeVisitingLocation(location2).defaultPrevented}notifyApplicationAfterClickingLinkToLocation(link,location2){return dispatch("turbo:click",{target:link,detail:{url:location2.href},cancelable:!0})}notifyApplicationBeforeVisitingLocation(location2){return dispatch("turbo:before-visit",{detail:{url:location2.href},cancelable:!0})}notifyApplicationAfterVisitingLocation(location2,action){return markAsBusy(document.documentElement),dispatch("turbo:visit",{detail:{url:location2.href,action:action}})}notifyApplicationBeforeCachingSnapshot(){return dispatch("turbo:before-cache")}notifyApplicationBeforeRender(newBody,resume){return dispatch("turbo:before-render",{detail:{newBody:newBody,resume:resume},cancelable:!0})}notifyApplicationAfterRender(){return dispatch("turbo:render")}notifyApplicationAfterPageLoad(timing={}){return clearBusyState(document.documentElement),dispatch("turbo:load",{detail:{url:this.location.href,timing:timing}})}notifyApplicationAfterVisitingSamePageLocation(oldURL,newURL){dispatchEvent(new HashChangeEvent("hashchange",{oldURL:oldURL.toString(),newURL:newURL.toString()}))}notifyApplicationAfterFrameLoad(frame){return dispatch("turbo:frame-load",{target:frame})}notifyApplicationAfterFrameRender(fetchResponse,frame){return dispatch("turbo:frame-render",{detail:{fetchResponse:fetchResponse},target:frame,cancelable:!0})}elementDriveEnabled(element){element=null==element?void 0:element.closest("[data-turbo]");return this.drive?!element||"false"!=element.getAttribute("data-turbo"):!!element&&"true"==element.getAttribute("data-turbo")}getActionForLink(link){link=link.getAttribute("data-turbo-action");return isAction(link)?link:"advance"}getTargetFrameForLink(link){var frame=link.getAttribute("data-turbo-frame");return frame||((frame=link.closest("turbo-frame"))?frame.id:void 0)}get snapshot(){return this.view.snapshot}};var prototype=session["navigator"];function start(){session.start()}function registerAdapter(adapter){session.registerAdapter(adapter)}function visit(location2,options){session.visit(location2,options)}function connectStreamSource(source){session.connectStreamSource(source)}function disconnectStreamSource(source){session.disconnectStreamSource(source)}function renderStreamMessage(message){session.renderStreamMessage(message)}function clearCache(){session.clearCache()}function setProgressBarDelay(delay){session.setProgressBarDelay(delay)}function setConfirmMethod(confirmMethod){FormSubmission.confirmMethod=confirmMethod}var Turbo=Object.freeze({__proto__:null,navigator:prototype,session:session,PageRenderer:PageRenderer,PageSnapshot:PageSnapshot,start:start,registerAdapter:registerAdapter,visit:visit,connectStreamSource:connectStreamSource,disconnectStreamSource:disconnectStreamSource,renderStreamMessage:renderStreamMessage,clearCache:clearCache,setProgressBarDelay:setProgressBarDelay,setConfirmMethod:setConfirmMethod});class SnapshotSubstitution{constructor(element){this.visitCachedSnapshot=({element:element2})=>{var{id,clone}=this;null!=(element2=element2.querySelector("#"+id))&&element2.replaceWith(clone)},this.clone=element.cloneNode(!0),this.id=element.id}}function getFrameElementById(id){if(null!=id){id=document.getElementById(id);if(id instanceof FrameElement)return id}}function activateElement(element,currentURL){if(element){var src=element.getAttribute("src");if(null!=src&&null!=currentURL&&function urlsAreEqual(left,right){return expandURL(left).href==expandURL(right).href}(src,currentURL))throw new Error(`Matching element has a source URL which references itself`);if((element=element.ownerDocument!==document?document.importNode(element,!0):element)instanceof FrameElement)return element.connectedCallback(),element.disconnectedCallback(),element}}const StreamActions={after(){this.targetElements.forEach(e=>{var _a;return null==(_a=e.parentElement)?void 0:_a.insertBefore(this.templateContent,e.nextSibling)})},append(){this.removeDuplicateTargetChildren(),this.targetElements.forEach(e=>e.append(this.templateContent))},before(){this.targetElements.forEach(e=>{var _a;return null==(_a=e.parentElement)?void 0:_a.insertBefore(this.templateContent,e)})},prepend(){this.removeDuplicateTargetChildren(),this.targetElements.forEach(e=>e.prepend(this.templateContent))},remove(){this.targetElements.forEach(e=>e.remove())},replace(){this.targetElements.forEach(e=>e.replaceWith(this.templateContent))},update(){this.targetElements.forEach(e=>{e.innerHTML="",e.append(this.templateContent)})}};class StreamElement extends HTMLElement{connectedCallback(){return __async$3(this,null,function*(){try{yield this.render()}catch(error){console.error(error)}finally{this.disconnect()}})}render(){return __async$3(this,null,function*(){var _a;return null!=(_a=this.renderPromise)?_a:this.renderPromise=__async$3(this,null,function*(){this.dispatchEvent(this.beforeRenderEvent)&&(yield nextAnimationFrame(),this.performAction())})})}disconnect(){try{this.remove()}catch(_a){}}removeDuplicateTargetChildren(){this.duplicateChildren.forEach(c=>c.remove())}get duplicateChildren(){var _a,existingChildren=this.targetElements.flatMap(e=>[…e.children]).filter(c=>!!c.id);const newChildrenIds=[…null==(_a=this.templateContent)?void 0:_a.children].filter(c=>!!c.id).map(c=>c.id);return existingChildren.filter(c=>newChildrenIds.includes(c.id))}get performAction(){if(this.action){var actionFunction=StreamActions[this.action];if(actionFunction)return actionFunction;this.raise("unknown action")}this.raise("action attribute is missing")}get targetElements(){return this.target?this.targetElementsById:this.targets?this.targetElementsByQuery:void this.raise("target or targets attribute is missing")}get templateContent(){return this.templateElement.content.cloneNode(!0)}get templateElement(){if(this.firstElementChild instanceof HTMLTemplateElement)return this.firstElementChild;this.raise("first child element must be a element")}get action(){return this.getAttribute("action")}get target(){return this.getAttribute("target")}get targets(){return this.getAttribute("targets")}raise(message){throw new Error(this.description+": "+message)}get description(){var _a;return null!=(_a=(null!=(_a=this.outerHTML.match(/]+>/))?_a:[])[0])?_a:""}get beforeRenderEvent(){return new CustomEvent("turbo:before-stream-render",{bubbles:!0,cancelable:!0})}get targetElementsById(){var _a=null==(_a=this.ownerDocument)?void 0:_a.getElementById(this.target);return null!==_a?[_a]:[]}get targetElementsByQuery(){var _a=null==(_a=this.ownerDocument)?void 0:_a.querySelectorAll(this.targets);return 0!==_a.length?Array.prototype.slice.call(_a):[]}}FrameElement.delegateConstructor=class FrameController{constructor(element){this.fetchResponseLoaded=fetchResponse=>{},this.currentFetchRequest=null,this.resolveVisitPromise=()=>{},this.connected=!1,this.hasBeenLoaded=!1,this.settingSourceURL=!1,this.element=element,this.view=new FrameView(this,this.element),this.appearanceObserver=new AppearanceObserver(this,this.element),this.linkInterceptor=new LinkInterceptor(this,this.element),this.formInterceptor=new FormInterceptor(this,this.element)}connect(){this.connected||(this.connected=!0,this.reloadable=!1,this.loadingStyle==FrameLoadingStyle.lazy&&this.appearanceObserver.start(),this.linkInterceptor.start(),this.formInterceptor.start(),this.sourceURLChanged())}disconnect(){this.connected&&(this.connected=!1,this.appearanceObserver.stop(),this.linkInterceptor.stop(),this.formInterceptor.stop())}disabledChanged(){this.loadingStyle==FrameLoadingStyle.eager&&this.loadSourceURL()}sourceURLChanged(){this.loadingStyle!=FrameLoadingStyle.eager&&!this.hasBeenLoaded||this.loadSourceURL()}loadingStyleChanged(){this.loadingStyle==FrameLoadingStyle.lazy?this.appearanceObserver.start():(this.appearanceObserver.stop(),this.loadSourceURL())}loadSourceURL(){return __async$3(this,null,function*(){if(!this.settingSourceURL&&this.enabled&&this.isActive&&(this.reloadable||this.sourceURL!=this.currentURL)){var previousURL=this.currentURL;if(this.currentURL=this.sourceURL,this.sourceURL)try{this.element.loaded=this.visit(expandURL(this.sourceURL)),this.appearanceObserver.stop(),yield this.element.loaded,this.hasBeenLoaded=!0}catch(error){throw this.currentURL=previousURL,error}}})}loadResponse(fetchResponse){return __async$3(this,null,function*(){(fetchResponse.redirected||fetchResponse.succeeded&&fetchResponse.isHTML)&&(this.sourceURL=fetchResponse.response.url);try{var body,snapshot,renderer,html=yield fetchResponse.responseHTML;html&&(body=parseHTMLDocument(html)["body"],snapshot=new Snapshot(yield this.extractForeignFrameElement(body)),renderer=new FrameRenderer(this.view.snapshot,snapshot,!1,!1),this.view.renderPromise&&(yield this.view.renderPromise),yield this.view.render(renderer),session.frameRendered(fetchResponse,this.element),session.frameLoaded(this.element),this.fetchResponseLoaded(fetchResponse))}catch(error){console.error(error),this.view.invalidate()}finally{this.fetchResponseLoaded=()=>{}}})}elementAppearedInViewport(element){this.loadSourceURL()}shouldInterceptLinkClick(element,url){return!element.hasAttribute("data-turbo-method")&&this.shouldInterceptNavigation(element)}linkClickIntercepted(element,url){this.reloadable=!0,this.navigateFrame(element,url)}shouldInterceptFormSubmission(element,submitter){return this.shouldInterceptNavigation(element,submitter)}formSubmissionIntercepted(element,submitter){this.formSubmission&&this.formSubmission.stop(),this.reloadable=!1,this.formSubmission=new FormSubmission(this,element,submitter);element=this.formSubmission.fetchRequest;this.prepareHeadersForRequest(element.headers,element),this.formSubmission.start()}prepareHeadersForRequest(headers,request){headers["Turbo-Frame"]=this.id}requestStarted(request){markAsBusy(this.element)}requestPreventedHandlingResponse(request,response){this.resolveVisitPromise()}requestSucceededWithResponse(request,response){return __async$3(this,null,function*(){yield this.loadResponse(response),this.resolveVisitPromise()})}requestFailedWithResponse(request,response){console.error(response),this.resolveVisitPromise()}requestErrored(request,error){console.error(error),this.resolveVisitPromise()}requestFinished(request){clearBusyState(this.element)}formSubmissionStarted({formElement}){markAsBusy(formElement,this.findFrameElement(formElement))}formSubmissionSucceededWithResponse(formSubmission,response){var frame=this.findFrameElement(formSubmission.formElement,formSubmission.submitter);this.proposeVisitIfNavigatedWithAction(frame,formSubmission.formElement,formSubmission.submitter),frame.delegate.loadResponse(response)}formSubmissionFailedWithResponse(formSubmission,fetchResponse){this.element.delegate.loadResponse(fetchResponse)}formSubmissionErrored(formSubmission,error){console.error(error)}formSubmissionFinished({formElement}){clearBusyState(formElement,this.findFrameElement(formElement))}allowsImmediateRender(snapshot,resume){return!0}viewRenderedSnapshot(snapshot,isPreview){}viewInvalidated(){}visit(url){return __async$3(this,null,function*(){var _a;const request=new FetchRequest(this,FetchMethod.get,url,new URLSearchParams,this.element);return null!=(_a=this.currentFetchRequest)&&_a.cancel(),this.currentFetchRequest=request,new Promise(resolve=>{this.resolveVisitPromise=()=>{this.resolveVisitPromise=()=>{},this.currentFetchRequest=null,resolve()},request.perform()})})}navigateFrame(element,url,submitter){var frame=this.findFrameElement(element,submitter);this.proposeVisitIfNavigatedWithAction(frame,element,submitter),frame.setAttribute("reloadable",""),frame.src=url}proposeVisitIfNavigatedWithAction(frame,element,submitter){const action=getAttribute("data-turbo-action",submitter,element,frame);if(isAction(action)){const visitCachedSnapshot=new SnapshotSubstitution(frame)["visitCachedSnapshot"];frame.delegate.fetchResponseLoaded=fetchResponse=>{var redirected;frame.src&&({statusCode:fetchResponse,redirected}=fetchResponse,fetchResponse={statusCode:fetchResponse,redirected:redirected,responseHTML:frame.ownerDocument.documentElement.outerHTML},session.visit(frame.src,{action:action,response:fetchResponse,visitCachedSnapshot:visitCachedSnapshot,willRender:!1}))}}}findFrameElement(element,submitter){return null!=(submitter=getFrameElementById(getAttribute("data-turbo-frame",submitter,element)||this.element.getAttribute("target")))?submitter:this.element}extractForeignFrameElement(container){return __async$3(this,null,function*(){var element,id=CSS.escape(this.id);try{if(element=activateElement(container.querySelector("turbo-frame#"+id),this.currentURL))return element;if(element=activateElement(container.querySelector(`turbo-frame[src][recurse~=${id}]`),this.currentURL))return yield element.loaded,yield this.extractForeignFrameElement(element);console.error(`Response has no matching element`)}catch(error){console.error(error)}return new FrameElement})}formActionIsVisitable(form,submitter){return locationIsVisitable(expandURL(getAction(form,submitter)),this.rootLocation)}shouldInterceptNavigation(element,submitter){var id=getAttribute("data-turbo-frame",submitter,element)||this.element.getAttribute("target");if(element instanceof HTMLFormElement&&!this.formActionIsVisitable(element,submitter))return!1;if(!this.enabled||"_top"==id)return!1;if(id){id=getFrameElementById(id);if(id)return!id.disabled}return!!session.elementDriveEnabled(element)&&!(submitter&&!session.elementDriveEnabled(submitter))}get id(){return this.element.id}get enabled(){return!this.element.disabled}get sourceURL(){if(this.element.src)return this.element.src}get reloadable(){return this.findFrameElement(this.element).hasAttribute("reloadable")}set reloadable(value){var frame=this.findFrameElement(this.element);value?frame.setAttribute("reloadable",""):frame.removeAttribute("reloadable")}set sourceURL(sourceURL){this.settingSourceURL=!0,this.element.src=null!=sourceURL?sourceURL:null,this.currentURL=this.element.src,this.settingSourceURL=!1}get loadingStyle(){return this.element.loading}get isLoading(){return void 0!==this.formSubmission||void 0!==this.resolveVisitPromise()}get isActive(){return this.element.isActive&&this.connected}get rootLocation(){var meta=this.element.ownerDocument.querySelector('meta[name="turbo-root"]');return expandURL(null!=(meta=null==meta?void 0:meta.content)?meta:"/")}},customElements.define("turbo-frame",FrameElement),customElements.define("turbo-stream",StreamElement),(()=>{let element=document.currentScript;if(element&&!element.hasAttribute("data-turbo-suppress-warning"))for(;element=element.parentElement;)if(element==document.body)return console.warn(unindent`
You are loading Turbo from a elementas viduje elementas. Tikriausiai ne tai norėjote padaryti! Įkelkite programos "JavaScript" paketą viduje vietoj elemento. elements in are evaluated with each page change.
For more information, see: https://turbo.hotwired.dev/handbook/building#working-with-script-elements
——
Suppress this warning by adding a "data-turbo-suppress-warning" attribute to: %s
`,element.outerHTML)})(),window.Turbo=Turbo,start();Turbo=Object.freeze({__proto__:null,PageRenderer:PageRenderer,PageSnapshot:PageSnapshot,clearCache:clearCache,connectStreamSource:connectStreamSource,disconnectStreamSource:disconnectStreamSource,navigator:prototype,registerAdapter:registerAdapter,renderStreamMessage:renderStreamMessage,session:session,setConfirmMethod:setConfirmMethod,setProgressBarDelay:setProgressBarDelay,start:start,visit:visit});function createSingleton(removeOnTurboVisit=!1){return function(target,name,descriptor){const original=descriptor.value;return descriptor.value=(…args)=>{var _a;window.DFX_SINGLETONS=null!=(_a=window.DFX_SINGLETONS)?_a:{};const instanceId=target.prototype.constructor.name+":"+name;if(removeOnTurboVisit){const turboCallback=()=>{window.DFX_SINGLETONS[instanceId]&&(window.DFX_SINGLETONS[instanceId]=null),document.removeEventListener("turbo:visit",turboCallback)};document.addEventListener("turbo:visit",turboCallback)}return window.DFX_SINGLETONS[instanceId]||(_a=original.apply(this,args),Object.defineProperty(window.DFX_SINGLETONS,instanceId,{value:_a,writable:!0}),_a)},descriptor}}class DfxLocalStorageCookieManager{constructor(localStorage){this.localStorage=localStorage,this.localStorage=localStorage;try{this.localStorage.setItem("test","test"),this.localStorage.removeItem("test"),this.isLocalStorageAvailable=!0}catch(e){this.isLocalStorageAvailable=!1}}getCookie(name){return(name=name&&document.cookie.match(new RegExp(`(?:^|; )${name.replace(/([.$?*|{}()[]\/+^])/g,"\$1″)}=([^;]*)`)))?decodeURIComponent(name[1]):void 0}setCookie(name,value,expires,domain,secure=!0){let cookieString=name+"="+value;"string"==typeof expires&&(cookieString+=";expires="+expires),"string"==typeof domain&&(cookieString+=";domain="+domain),cookieString+="; path=/",secure&&"https:"===location.protocol&&(cookieString+="; secure"),document.cookie=cookieString}deleteCookie(name){this.setCookie(name,"","Thu, 01 Jan 1970 00:00:00 UTC")}getLocalStorageOrCookie(name){var _a;return this.isLocalStorageAvailable&&null!=(_a=this.localStorage.getItem(name))?_a:this.getCookie(name)}setLocalStorageOrCookie(name,value,expires,domain){this.isLocalStorageAvailable?this.localStorage.setItem(name,value):this.setCookie(name,value,expires,domain)}deleteLocalStorageOrCookie(name){this.isLocalStorageAvailable?this.localStorage.removeItem(name):this.deleteCookie(name)}}var __defProp$5=Object.defineProperty,__getOwnPropDesc$5=Object.getOwnPropertyDescriptor;class DfxLocalStorageCookieManagerFactory{static create(){return new DfxLocalStorageCookieManager(window.localStorage)}}((decorators,target,key,kind)=>{for(var decorator,result=1{for(var decorator,result=1{var fulfilled=value=>{try{step(generator.next(value))}catch(e){reject(e)}},rejected=value=>{try{step(generator.throw(value))}catch(e){reject(e)}},step=x=>x.done?resolve(x.value):Promise.resolve(x.value).then(fulfilled,rejected);step((generator=generator.apply(__this,__arguments)).next())});const COUNTRIES_TO_REPLACE_MAP=new Map([["GB","UK"]]);class DfxGeoLocation{constructor(geoJsUrl,dfxLocalStorageCookieManager){this.geoJsUrl=geoJsUrl,this.dfxLocalStorageCookieManager=dfxLocalStorageCookieManager}init(){return __async$2(this,null,function*(){var redirectData=yield this.getRedirectData();COUNTRIES_TO_REPLACE_MAP.has(redirectData.country)&&(redirectData.country=COUNTRIES_TO_REPLACE_MAP.get(redirectData.country)),this.redirectData=redirectData,this.setBodyClasses().setLocationToStorage()})}getRedirectData(){return __async$2(this,null,function*(){var redirectData;return this.redirectData||((redirectData=this.getLocationFromStorage())?(this.redirectData=redirectData,this.redirectData):this.loadRedirectData())})}loadRedirectData(){return new Promise(resolve=>{var script=document.createElement("script");script.onload=()=>{this.redirectData=window.redirectData,resolve(this.redirectData)},script.setAttribute("src",this.geoJsUrl),document.head.appendChild(script)})}setBodyClasses(){const countryCode=this.redirectData.country.toLowerCase();return document.body?(document.body.classList.remove("dfx-country-pending"),document.body.classList.add("dfx-country-"+countryCode)):document.addEventListener("DOMContentLoaded",()=>{document.body.classList.remove("dfx-country-pending"),document.body.classList.add("dfx-country-"+countryCode)},!1),this}getLocationFromStorage(){var expiresIn=this.dfxLocalStorageCookieManager.getLocalStorageOrCookie("dfx-redirectData_expiresIn");return!!(expiresIn&&parseInt(expiresIn)>Date.now())&&JSON.parse(null!=(expiresIn=this.dfxLocalStorageCookieManager.getLocalStorageOrCookie("dfx-redirectData"))?expiresIn:"false")}setLocationToStorage(){var date=new Date;return date.setTime(date.getTime()+6048e5),this.dfxLocalStorageCookieManager.setLocalStorageOrCookie("dfx-redirectData",JSON.stringify(this.redirectData),date.toUTCString()),this.dfxLocalStorageCookieManager.setLocalStorageOrCookie("dfx-redirectData_expiresIn",""+date.getTime(),date.toUTCString()),this}}var __defProp$3=Object.defineProperty,__getOwnPropDesc$3=Object.getOwnPropertyDescriptor;class DfxGeoLocationFactory{static create(){return new DfxGeoLocation(window.DFX_ENDPOINTS.geoJs,DfxLocalStorageCookieManagerFactory.create())}}((decorators,target,key,kind)=>{for(var decorator,result=1{this.pixelState=STATES.READY},f=window,b=document,e="script",f.fbq||(n=f.fbq=function(){n.callMethod?n.callMethod.apply(n,arguments):n.queue.push(arguments)},f._fbq||(f._fbq=n),(n.push=n).loaded=!0,n.version="2.0″,n.queue=[],(f=b.createElement(e)).async=!0,f.onload=loadCallback,f.src="https://connect.facebook.net/en_US/fbevents.js",(loadCallback=b.getElementsByTagName(e)[0]).parentNode.insertBefore(f,loadCallback)),this.fbq=window.fbq,this.fbq("init",this.facebookPixelId)),this}facebookPixelTrack(type){return this.dfxGdprChecker.checkLevel(3)&&this.allowedTrackingsConfig[TRACKINGS.FACEBOOK_PIXEL]&&(this.pixelState===STATES.OFF&&this.createFacebookPixel(),this.fbq("track",type)),this}facebookPixelTrackPageView(){return this.dfxGdprChecker.checkLevel(3)&&this.facebookPixelTrack("PageView"),this}facebookPixelTrackLead(){return this.dfxGdprChecker.checkLevel(3)&&this.facebookPixelTrack("Lead"),this}createGTM(){if(this.dfxGdprChecker.checkLevel(1)&&this.allowedTrackingsConfig[TRACKINGS.GTM]&&this.gtmState===STATES.OFF){this.gtmState=STATES.LOADING;const scriptOnload=()=>{this.gtmState=STATES.READY};var w=window,d=document,s="script",l="dataLayer",i=this.tagManagerId,p=this.tagManagerParams;w[l]=w[l]||[],w[l].push({"gtm.start":(new Date).getTime(),event:"gtm.js"}),w=d.getElementsByTagName(s)[0],(l=d.createElement(s)).async=!0,l.src="https://www.googletagmanager.com/gtm.js?id="+i+p,l.onload=scriptOnload,w.parentNode.insertBefore(l,w)}return this}createTwitterPixel(){var n,s,e,t;return this.dfxGdprChecker.checkLevel(3)&&this.allowedTrackingsConfig[TRACKINGS.TWITTER_PIXEL]&&(e=window,t=document,n="script",e.twq||((s=e.twq=function(){s.exe?s.exe.apply(s,arguments):s.queue.push(arguments)}).version="1.1″,s.queue=[],(e=t.createElement(n)).async=!0,e.src="https://static.ads-twitter.com/uwt.js",(t=t.getElementsByTagName(n)[0]).parentNode.insertBefore(e,t)),twq("init","o92un"),twq("track","PageView")),this}createGPT(){if(this.dfxGdprChecker.checkLevel(1)&&this.allowedTrackingsConfig[TRACKINGS.GPT]&&this.gptState===STATES.OFF){this.gptState=STATES.LOADING;const scriptOnload=()=>{this.gptState=STATES.READY};var gads,useSSL,googletag=window.googletag||{cmd:[]};(gads=document.createElement("script")).async=!0,gads.type="text/javascript",useSSL="https:"===document.location.protocol,gads.src=(useSSL?"https:":"http:")+"//www.googletagservices.com/tag/js/gpt.js",gads.onload=scriptOnload,(useSSL=document.getElementsByTagName("script")[0]).parentNode.insertBefore(gads,useSSL),window.googletag=window.googletag||googletag}return this}trackGTMpageLoadEvent(){return this.dfxGdprChecker.checkLevel(1)&&(window.dataLayer=window.dataLayer||[],window.dataLayer.push({event:"turboPageView",virtualUrl:window.location.pathname})),this}createBaiduTracking(){var s,hm,curProtocol;return this.dfxGdprChecker.checkLevel(2)&&this.allowedTrackingsConfig[TRACKINGS.BAIDU]&&this.baiduState!==STATES.READY&&((hm=document.createElement("script")).src="https://hm.baidu.com/hm.js?961aa7f85d30d676f24a6f928c035b90″,(s=document.getElementsByTagName("script")[0]).parentNode.insertBefore(hm,s),hm=document.createElement("script"),curProtocol=window.location.protocol.split(":")[0],hm.src="https"===curProtocol?"https://zz.bdstatic.com/linksubmit/push.js":"http://push.zhanzhang.baidu.com/push.js",(curProtocol=document.getElementsByTagName("script")[0]).parentNode.insertBefore(hm,curProtocol),this.baiduState=STATES.READY),this}addGptAssetClasses(assetClasses){if(Array.isArray(assetClasses))return assetClasses.forEach(assetClass=>this.gptAssetClasses.add(assetClass)),this;throw new TypeError("Param assetClasses must be an Array")}addGptInstrumentPairs(pairs){if(Array.isArray(pairs))return pairs.forEach(assetClass=>this.gptInstrumentPairs.add(assetClass)),this;throw new TypeError("Param pairs must be an Array")}addGptCategories(category="",subCategory=""){this.gptCategories={category:category,subCategory:subCategory}}getGptAssetClasses(){return this.gptAssetClasses}getGptInstrumentPairs(){return this.gptInstrumentPairs}getGptCategory(){return this.gptCategories.category}getGptSubCategory(){return this.gptCategories.subCategory}createTaboolaPixel(){if(this.dfxGdprChecker.checkLevel(3)&&this.allowedTrackingsConfig[TRACKINGS.TABOOLA_PIXEL]&&this.taboolaState===STATES.OFF){this.taboolaState=STATES.LOADING;const scriptOnload=()=>{this.taboolaState=STATES.READY};var t,f,x;window._tfa=window._tfa||[],window._tfa.push({notify:"event",name:"page_view",id:this.taboolaPixelId}),this.tfa=window._tfa,t=document.createElement("script"),f=document.getElementsByTagName("script")[0],x="tb_tfa_script",document.getElementById(x)||(t.async=1,t.src="https://cdn.taboola.com/libtrc/unip/1350268/tfa.js",t.id=x,t.onload=scriptOnload,f.parentNode.insertBefore(t,f))}return this}taboolaPixelTrack(eventName){return this.dfxGdprChecker.checkLevel(3)&&this.allowedTrackingsConfig[TRACKINGS.TABOOLA_PIXEL]&&(this.pixelState===STATES.OFF&&this.createTaboolaPixel(),this.tfa.push({notify:"event",name:eventName,id:this.taboolaPixelId})),this}}class DfxConfig{constructor(config){this.config=config}get(key){return this.config.get(key)}set(key,value){this.config.has(key)||this.config.set(key,value)}}var __defProp$2=Object.defineProperty,__getOwnPropDesc$2=Object.getOwnPropertyDescriptor;class DfxConfigFactory{static create(){var mergedConfig=Object.assign({},window.DFX_CONFIG,window.DFX_ENDPOINTS),mergedConfig=new Map(Object.entries(mergedConfig));return new DfxConfig(mergedConfig)}}((decorators,target,key,kind)=>{for(var decorator,result=1{try{step(generator.next(value))}catch(e){reject(e)}},rejected=value=>{try{step(generator.throw(value))}catch(e){reject(e)}},step=x=>x.done?resolve(x.value):Promise.resolve(x.value).then(fulfilled,rejected);step((generator=generator.apply(__this,__arguments)).next())});var __this,__arguments,generator}}var prototype=Object.defineProperty,__getOwnPropDesc=Object.getOwnPropertyDescriptor;class DfxFontsFactory{static create(){return new DfxFonts(document)}}for(var decorator,decorators=[createSingleton()],target=DfxFontsFactory,key="create",kind=1,result=1{window[key]=imports[key]}),window.runStacked()}}catch(error){console.error(error)}},new Promise((resolve,reject)=>{var fulfilled=value=>{try{step(generator.next(value))}catch(e){reject(e)}},rejected=value=>{try{step(generator.throw(value))}catch(e){reject(e)}},step=x=>x.done?resolve(x.value):Promise.resolve(x.value).then(fulfilled,rejected);step((generator=generator.apply(__this,__arguments)).next())});var __this,__arguments,generator};document.addEventListener("turbo:load",()=>loadScripts()),window.turbo=Turbo,start(),DfxGeoLocationFactory.create().init(),exports.DfxGdprChecker=__getOwnPropDesc,exports.DfxGdprCheckerFactory=DfxGdprCheckerFactory,exports.DfxGeoLocationFactory=DfxGeoLocationFactory,exports.DfxThirdPartyManagerFactory=DfxThirdPartyManagerFactory,Object.defineProperty(exports,"__esModule",{value:!0})}(this.window=this.window||{});